SK Hynix Inc. today introduced the industry's first 72-Layer 256 Gb (Gigabit) 3D (Three-Dimensional) NAND Flash based on its TLC (Triple-Level Cell) arrays and own technologies. The company stacks 1.5 times more cells for the 72-Layer 3D NAND than it does for the 48-Layer 3D which is already in mass production. A single 256Gb NAND Flash chip can represent 32 GB (Gigabytes) storage. SK Hynix launched 36-Layer 128 Gb 3D NAND chips in April 2016, and has been mass producing 48-Layer 256 Gb 3D NAND chips since November 2016. In just 5 months, the company has developed the 72-Layer 256 Gb 3D NAND chips, securing the industry's finest product portfolio.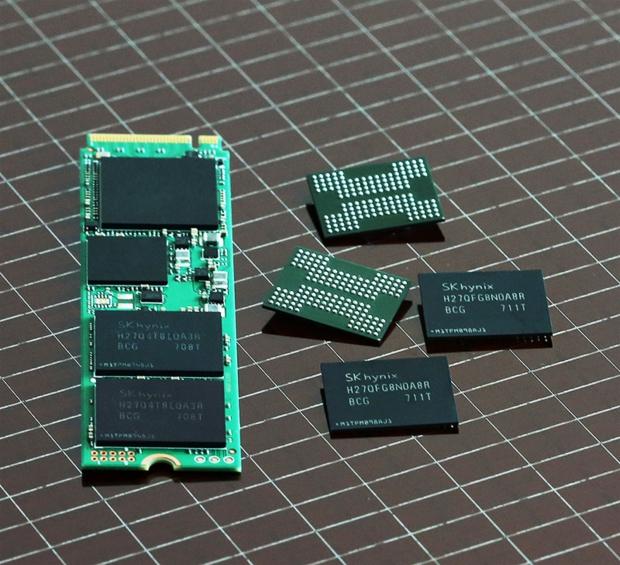 The technological achievement of this 72-Layer 256 Gb 3D NAND compares figuratively to the difficulty of approximately 4 billion 72-storied skyscrapers on a dime. The chip also achieves approximately 30 percent more manufacturing productivity over its predecessor 48-Layer by stacking 1.5 times more cells and utilizing existing mass production facilities. Also by bringing high-speed circuit design into the new chip, its internal operation speed is two times faster and read/write performance is 20 percent higher than a 48-Layer 3D NAND chip.
With this new 72-Layer 3D NAND chips having 30% more efficiency in productivity and 20% higher performance, SK Hynix has been currently developing NAND Flash solutions such as SSD(Solid State Drive) and storage for mobile devices such as smartphones. With the improved performance, high reliability and low power consumption, the company looks forward to solidifying its business competence in the 3D NAND memory solutions.
"With the introduction of this industry's highest productivity 3D NAND, SK Hynix will mass produce the 256Gb 3D NAND in the second half of this year to provide this to worldwide business clients for optimum use in storage solutions" said vice president Jong Ho Kim, the Head of Marketing Division. "The company plans to expand the usage of the product to SSDs and mobile gadgets such as smartphones to further improve its business structure weighted towards DRAM" he added.
3D NAND demand will rapidly increase across AI(Artificial Intelligence), big data and cloud storage in the 4th industrial revolution. According to Gartner, NAND Flash market revenue is expected to total USD 46.5 billion in this year and post continuous growth to amount to USD 56.5 billion in 2021.
Last updated: Apr 7, 2020 at 12:11 pm CDT