Toshiba America Electronic Components, Inc. (TAEC), a committed technology leader, announces volume availability of its next MG Series HDD - the MG05ACA800 - providing 8TB for business critical servers and shared storage systems. With a 33 percent increase in capacity from the previous 6TB SATA generation, this drive is the first Toshiba 8TB SATA 6.0Gbit/s[2] capacity-optimized storage for the enterprise, making it the largest capacity ever produced by Toshiba. The drive improves sustained transfer rate performance by 12 percent when compared to the MG04ACA.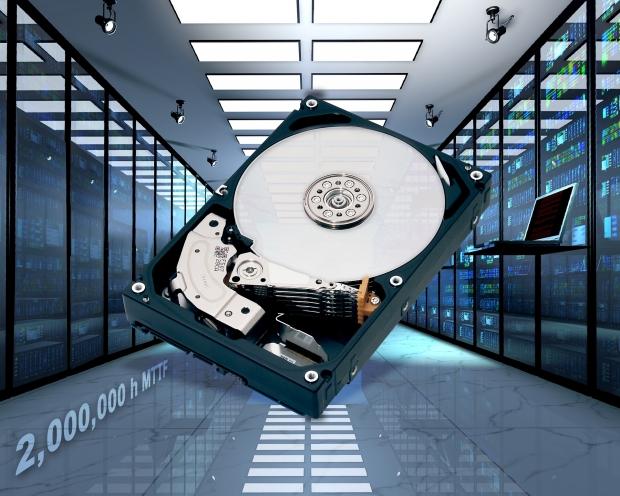 Latest Toshiba 3.5 inch Enterprise Capacity 8TB SATA HDD achieves volume shipment status
The new 8TB model can help to improve the operational efficiency of storage infrastructure by increasing the capacity available in the industry-standard 26.1mm high form-factor. The drive's high capacity SATA interface and performance characteristics match-up well with requirements for applications such as software-defined storage infrastructures, public and private cloud deployments, digital archives and disk-based backup and data protection solutions.
The drive's power management features help to optimize operating costs and operating environments during off-peak activity periods. The 8TB SATA HDD is designed for 24x7 operation and provides a 550TB transferred-per-year rated workload, with a 2,000,000-hour MTTF rating. Additionally, this is the first Toshiba Enterprise capacity SATA model to support the new industry-standard host-initiated power-disable feature for improved device management capability.
"Accommodating rapid data growth continues to be a prime focus for both cloud-scale and on premise IT environments," said Scott Wright, director of HDD marketing at Toshiba America Electronic Components, Inc. "Toshiba's new 8TB SATA enterprise-capacity HDD provides high capacity per-spindle. This helps OEMs and cloud service providers (CSPs) deliver enterprise-class storage capacity for business critical workloads that need to keep pace with rapid data growth."
As was recently announced, new IDC market report[5] identified Toshiba as the fastest growing HDD vendor segment in 2016 over 2015, as measured by revenue and units. Toshiba's growth was aided by their comprehensive array of innovative HDD model offerings across different primary market segments. The new 8TB SATA HDD, part of the MG Series, is aimed at Enterprise Capacity and Data Center needs.
In February 2017, our cumulative Near-Line Enterprise HDD production number reached 10,000,000 units. The MG Series HDDs, which are Near-Line Enterprise HDDs, are sampling today to OEMs and Systems Integrators. Typical use cases include tiered storage infrastructure for public and private cloud deployments; virtual desktop interface (VDI); email servers, data-protection and other business-critical systems use-cases; public and private cloud storage; software defined storage; business critical servers; business critical storage systems (including NAS and SAN); disk-based backup systems (including cloud-scale data protection); data archives and digital records storage; and SMB servers and storage platforms.
For more information on Toshiba's line of storage product, please visit: http://toshiba.semicon-storage.com/us/product/storage-products.html. To learn more about Toshiba's storage solutions visit the storage blog at http://storage.toshiba.com/corporateblog/ and follow @ToshibaStorage on Twitter.
Last updated: Apr 7, 2020 at 12:11 pm CDT