Western Digital Corporation ("Western Digital") (NASDAQ: WDC), a storage industry leader, today announced the availability of the WD Purple 10TB HDD, the newest member of its high-capacity hard drive line for surveillance applications. According the IHS Markit, anticipated growth of 4K-compliant and high-resolution network cameras over the next few years is driving higher demand for surveillance-class storage to support systems featuring these technologies*. With increased capacity and proven leading-edge technology, the WD Purple 10TB HDD is optimized for 24x7 video surveillance systems and up to 64 high-definition (HD) cameras in home and small business security environments.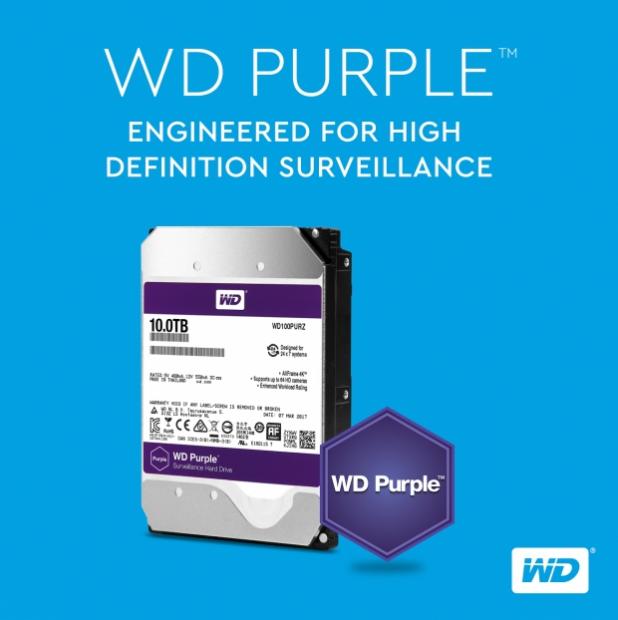 25-Percent Capacity Boost, Support for Up to 64 HD Cameras Equips Systems for Always-On, 4K-Ready Surveillance
"Advanced imaging technology advancements are expanding the value that video surveillance provides for applications ranging from retail and public safety monitoring to smart-city infrastructure, all of which are driving new storage needs," said Brendan Collins, vice president of product marketing. "Our new 10TB drive inherits the high performance, reliability and endurance qualities of our WD Purple family, with maximum capacity to offer VARs, integrators and consumers a 4K-ready solution for current and next-generation surveillance systems."
"All of us at 45 Drives are excited about the new WD Purple 10TB hard drive," said Doug Milburn, vice president and Cofounder of 45 Drives/Protocase, Inc. "With so many of our customers in the surveillance industry, it's important for us as a company to have the right products to for their needs. WD Purple hard drives provide the two critical elements to our customers - density and enhanced reliability - all at a reasonable price point."
Optimized to withstand the demands of always-on DVR and NVR recording environments, 10TB WD Purple hard drives offer low power consumption, exclusive WDÃ,Ã,® technologies and many advanced performance features including:
AllFrame 4K Technology - Estimated at two percent of the camera network security camera market in 2017, 4K video surveillance cameras are expected to reach 29 percent by 2020*. AllFrame 4K technology enhances ATA streaming support to help reduce video frame loss with proprietary cache policy management technology to improve overall data flow and playback. WD Purple 10TB HDDs include exclusive firmware enhancements that help protect against video pixilation and interruptions within a surveillance system.
HelioSeal Technology - Enabling higher storage capacity and lower power consumption, the WD Purple 10TB HDD uses the third generation of HelioSeal technology, which has been shipping for over three years and on over 12 million drives as of December 2016.
Scalable Surveillance Systems - Designed for 24x7 operations with support for multi-bay systems with an annualized workload rating of 180 TB/year and tarnish-resistant components, WD Purple 10TB drives are ready for use in demanding high-performance, high-definition small- or large-scale surveillance systems
Engineered for Compatibility
Built for easy integration into new or existing video surveillance systems, WD Purple hard drives are designed and tested to surveillance-class standards and are compatible with industry-leading chassis and chip-sets. Without a current industry standard, WD worked closely with surveillance partners to develop a proprietary benchmark to define and demonstrate performance in surveillance systems.
The new WD Purple 10TB drive complements Western Digital's broader family of advanced storage solutions for the surveillance market, offering a core-to-edge portfolio that supports customers from cloud storage and server systems out to the surveillance cameras.
Price and Availability
WD Purple 10TB HDDs are shipping now. With the new 10TB drive, the surveillance-class hard drive line is available in capacities ranging from 1TB up to 10TB, all covered by a three-year limited warranty. Manufacturers Suggested Retail Price (MSRP) for the 3.5-inch 10TB drive, model #: (WD100PURZ) is $399.99. Additional information about WD Purple hard drives and limited warranty terms may be found on the company website at https://www.wdc.com/products/internal-storage/wd-purple-surveillance-hard-drive.html.
Last updated: Sep 1, 2017 at 12:58 am CDT