MyRepublic, Australia's internet speed champion is continuing to challenge Australia's internet marketplace by launching a competition that will make one town into Australia's first Gigatown, giving both consumers and small business owners access to Ultra-Fast internet speeds.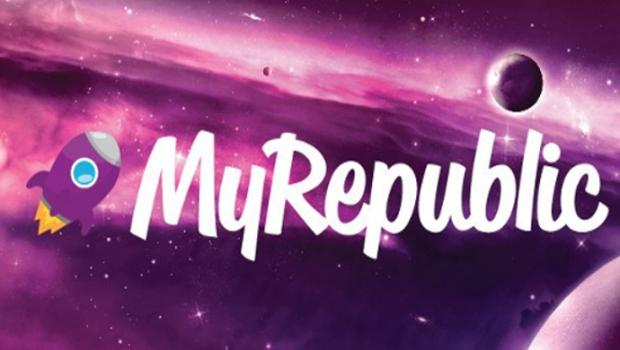 "Since our launch in November 2016, we have signed up 15,000 customers with 99% of our nbn customers provisioned on the nbn100 sped tier that provides nominal access line speed of 100/40Mbps, compared to 83 percent* of Australia's nbn customers being provisioned on the nbn 25 speed tier or below" said Nicholas Demos, Managing Director at MyRepublic Australia.
"In just over four months this is a phenomenal achievement but we want to continue the awareness for Ultra-Fast internet across Australia and our Gigatown competition will do so".
Why is MyRepublic launching Gigatown now?
MyRepublic has been instrumental in delivering affordable Ultra-Fast 1Gbps speeds in both Singapore and New Zealand, by successfully lobbing for lower AVC and CVC prices in both countries.
In Singapore, over 95% of all new connections order 1Gbps speeds and in New Zealand 50% of MyRepublic's ordering a MyRepublic service select the 1Gbps plan.
Despite nbn having launched the wholesale 1Gbps speed tier over four years ago, Australian ISP's have yet to launch this as a consumer facing product. MyRepublic believes the main reason for this is the current regulated AVC and CVC wholesale pricing, which would suggest that a retail product based on the nbn 1Gbps speed tier would retail over $300 per month, compared to MyRepublic's retail pricing of $49.99 (SGD) per month in Singapore and $129.99 (NZD) per month in New Zealand.
MyRepublic is heavily subsidising the cost of the winning Gigatown to demonstrate the benefits Ultra-Fast Next Generation Fibre can deliver and to prove that Australians want access to premium fibre products at a fair price.
From today until the 31st of May 2017, anyone can enter the Gigatown competition and in addition to lighting up one town with Ultra-Fast speeds in July 2017, two individual winners will receive a premium Sony prize pack, which includes:
PlayStation 4 Pro (PS4 Pro) - The super-charged PS4 built with twice the power, astonishing 4K and HDR visuals and the fastest and sharpest graphics

PlayStation VR (PS VR) - Powered by PS4, immerse yourself in extraordinary new worlds and experience new ways to play with PS VR

Sony 49inch 4K HDR TV - A perfect display partner for PlayStation 4 Pro

Sony 5.1ch Home Cinema System with Bluetooth - The ideal device to complete the premium Sony audio visual experience
Existing MyRepublic customers in the Gigatown will get complementary speed upgrades for a year, following that MyRepublic will open Gigatown up to new customers at what we believe to be a fair price.
The petition
In February, MyRepublic introduced an online petition to give a voice to the Australian public on affordable Ultra-Fast 1Gbps speeds.
Demos said, "It's important for us to provide Australians with affordable high speed internet, otherwise how will we compete on the world stage?"
"We've had an outstanding response to the petition with over 6,000 individuals having signed and expressed how they feel about current internet speeds".
Participant sound bites from MyRepublic petition
Australian internet speeds are a disgrace. We deserve better for our hospitals, our medical professionals, our scientists, and our education system. We are a large country where travelling is problematic.
Extremely slow and lagging behind the rest of the world.
Considering USA has 10Gbps in some cities. It's crazy we do not have 1Gbps yet. As a business owner, it would allow us to adapt new technologies to help grow our business.

Australia is a modern country when our internet speed is on par with the slowest countries in the world. Yet we have business, school's hospitals that all rely on internet.

I think the increased in speed that NBN has brought me ... With MyRepublic of course ... But true gigabit would be so great. Anything else currently is just awful.

Current speeds are unacceptable to carry us forward in today's society, and dependence on internet connectivity

Truly dismal! For such a developed country, we're lagging behind with our Internet speed.

I have been to NZ recently and they have far faster internet than Australia. I'm tired of paying so much for so little in this country...

Being a Singaporean, Australian Internet Speeds make me want to cry. Thank you MyRepublic for coming in!!!

As we approach the new high tech era with advanced robotics, AI and VR, we owe it to ourselves to build a complete gigabit network throughout Australia. Having a strong gigabit network throughout the country ensures that we are the forefront of new technologies and open new industries that haven't existed 10 years ago, as Australians, we have innovated many amazing things, so let's make Gigabit Internet a reality!
Australia is now ranked number 51 in the world for internet speeds, behind Kenya, Lithuania and Bulgaria. MyRepublic is on a mission to ensure Australian's receive high bandwidth internet in order to support their current needs and passions when it comes to their business demands and entertainment requirements. They are the only ISP in Australia to introduce an nbnTM powered Gamer Plan.
To sign the petition and for full terms and conditions on the MyRepublic Gigatown competition, please find them here: https://myrepublic.net/au/gigaspeed/
Last updated: Apr 7, 2020 at 12:11 pm CDT