Nintendo Switch players will soon enjoy the unforgettable and heartfelt story of I AM SETSUNA, the debut title from Tokyo RPG Factory, SQUARE ENIX's newest studio. It will be available as a digital day one launch title, and will include exclusive new features such as the "Temporal Battle Arena," where players can enjoy thrilling battles against other players' parties.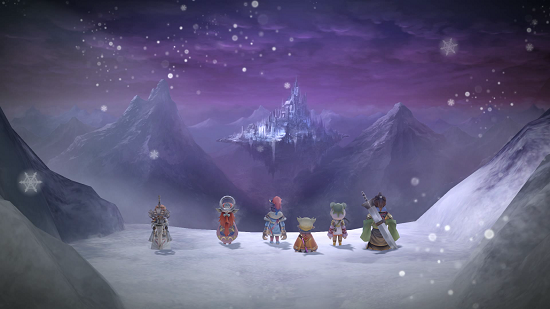 I AM SETSUNA follows the story of Setsuna, a young woman of incredible power and inner strength, and the sacrifice she must undertake to save the people of her land as she leaves her hometown. Featuring simple turn-based controls and unique gameplay mechanics inspired by the golden age of JRPGs, I AM SETSUNA merges nostalgic elements with modern current-gen technology. Tokyo RPG Factory's debut title delivers an emotional story of bravery and sacrifice along with powerful character development.
I AM SETSUNA is available now digitally on PlayStation 4 computer entertainment system and Steam, and will be available for the Nintendo Switch on March 3, 2017. This title is rated E10+ (Everyone 10+). Please visit the Entertainment Software Rating Board (ESRB) website at www.esrb.org for more information about ratings.
About Tokyo RPG Factory
Established in August 2014, Tokyo RPG Factory is a new studio within Square Enix specializing in Japanese RPGs. The studio revisits the ethos and practices used to develop for the 16-bit era and aims to re-introduce the classic JRPG style to current hardware, mixing the spirit of the past with technologies of today. Taking inspiration from the golden era of JRPGs and their storytelling, innovation and depth, I AM SETSUNA is the first title from the studio.
About Square Enix, Inc.
Square Enix, Inc. develops, publishes, distributes and licenses SQUARE ENIX, EIDOS and TAITO branded entertainment content throughout the Americas as part of the Square Enix group of companies. Square Enix, Inc. is affiliated with a global network of leading development studios such as IO Interactive, Crystal Dynamics, and Eidos Montreal. The Square Enix group of companies boasts a valuable portfolio of intellectual property including: FINAL FANTASY, which has sold over 115 million units worldwide; DRAGON QUEST, which has sold over 68 million units worldwide; TOMB RAIDER, which has sold over 46 million units worldwide; and the legendary SPACE INVADERS. Square Enix, Inc. is a U.S.-based, wholly-owned subsidiary of Square Enix Holdings Co., Ltd.
More information on Square Enix, Inc. can be found at http://na.square-enix.com/
Last updated: Sep 1, 2017 at 12:58 am CDT