Transcend Information, Inc. (Transcend), a leading manufacturer of industrial-grade products, proudly presents the industrial-grade SuperMLC JetFlash 740 USB flash drive. Positioned between its SLC and MLC NAND flash offerings, Transcend's exclusive SuperMLC technology is a cost-effective solution that offers performance close to that of SLC NAND flash. Compliant with USB 3.1 Gen 1 specifications, the JetFlash 740 boasts excellent performance and endurance at affordable prices, making it ideal for demanding industrial grade applications.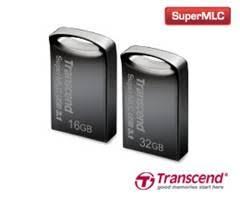 Blazing-Fast Performance up to 120MB/s
Drawing on the strengths of both Single-Level Cell (SLC) and Multi-Level Cell (MLC) NAND flash, Transcend has developed SuperMLC technology by reprogramming the two bits per cell of MLC into one bit per cell, greatly boosting performance. Compliant with USB 3.1 Gen 1 specifications, the transfer speeds of Transcend's JetFlash 740 USB flash drive can reach up to 120MB/s read and 90MB/s write, double those of MLC flash chips. Transcend's SuperMLC technology is a great match for industrial applications that demand quality comparable to SLC NAND flash at a cost-effective price.
Excellent Endurance, Reliable Resistance
Transcend's JetFlash 740 USB flash drive offers an excellent level of endurance, delivering up to 30,000 P/E cycles*, ten times that of MLC NAND flash. Using innovative COB (Chip on Board) technology and housed in a high-quality metallic casing, the JetFlash 740 offers great vibration, dust, and splash resistance while remaining compact, ideal for stable, efficient data transfers in harsh industrial environments.
Warranty
Transcend's JetFlash 740 USB flash drive is available in 4GB to 32GB capacities and backed by Transcend's Two-year Limited Warranty.
*Note: Performance may vary by testing environment and methods. Please refer to Transcend website for more detailed information.
Last updated: Sep 1, 2017 at 12:58 am CDT