BIOSTAR is proud to announce its line-up of new motherboards based on the Intel B250 chipset as part of the 2nd-generation RACING series family of products with the announcement of the BIOSTAR RACING B250GT5 and B250GT3. Both motherboards support Intel's 7th-generation Core processors as well as native support for Intel Optane Memory technology for next-generation high-speed storage.

More LED possibilities with BIOSTAR's new feature: 5050 LED Fun Zone
The BIOSTAR RACING B250GT5 will have an MSRP of $109 and will come bundled with a BIOSTAR VIVID LED fan. The BIOSTAR RACING B250GT3 will have an MSRP of $79.
BIOSTAR 2nd-Gen RACING B250 Motherboard Series Lets You Light It Your Way
The new BIOSTAR B250 series motherboard will support processors for the LGA1151 socket and will have native support for DDR4-2400 memory. Both motherboard in the series will feature high-reliability Intel LAN ethernet solution with built-in BIOSTAR LAN surge protection for maximum protection. Built-in M.2 connectors allow high-speed storage support. Both motherboards are also protected by BIOSTAR DUAL-BIOS technology which allows you to recover from a defective BIOS update or corruption in an instant.
The B250 family of 2nd-Gen RACING series motherboards from BIOSTAR all features VIVID LED DJ support and two 5050 LED Fun Zone headers for full customization freedom. Be future-ready with BIOSTAR RACING series for tomorrow's storage technology with built-in Intel Optane Memory support.
VIVID LED DJ
Design your own LED effect with BIOSTAR VIVID LED DJ. Control your motherboard LED light via VIVID LED DJ utility including special effects like music-reactive LED animation.
5050 LED Fun Zone
The brand-new 5050 LED Fun Zone comes with two 5050 LED headers to bring more colorful lighting options to DIY lovers. This improves upon the original feature allowing for a much more flexible way of adding lights to your system.
Experience Intense Armor Warfare with World of Tanks together with BIOSTAR RACING Series
Indulge in the most realistic armored warfare experience with BIOSTAR and World of Tanks as they bring gamers closer to the actual battlefield with superb performance. Enjoy the BIOSTAR advantage in World of Tanks when you buy a BIOSTAR RACING motherboard, VGA or gaming peripheral where you will receive an exclusive invite codes for premium gift packs for World of Tanks Asia server players. Charge into battle with the BIOSTAR advantage.
Specifications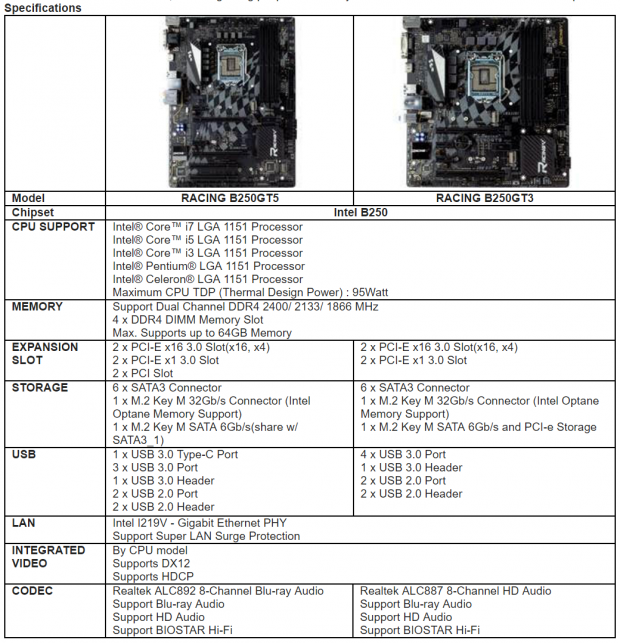 Last updated: Sep 1, 2017 at 12:58 am CDT