Das Keyboard, maker of award-winning mechanical keyboards, today announced it will demo the 5Q at CES 2017.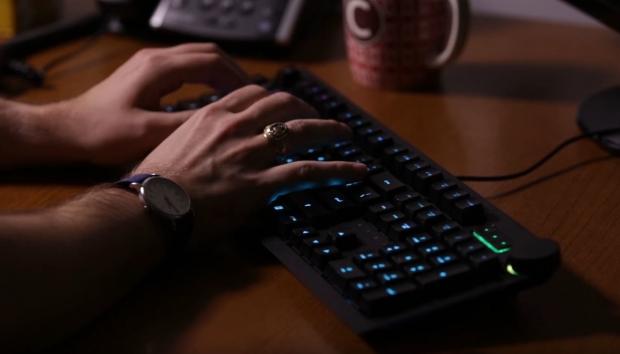 The 5Q is the world's first cloud-connected keyboard and the only keyboard of its kind that increases productivity by streaming information from the Internet directly to the keyboard. After a successful Kickstarter campaign that exceeded the company's fundraising goal by over 580%, Das Keyboard is now ready to demo the 5Q with its connected software suite called Q, allowing information like email activity, project status, stock quotes, and sports updates to be color-coded and displayed on the keyboard keys.
The 5Q software includes:
A dashboard for real-time keyboard key color visualization of information coming from the Internet into the 5Q. Information can be coming from IFTTT, Zapier, or any cloud applications with a public API.

Mode illumination, which allows the 5Q's LEDs to be individually controlled.

Color effects that can be applied to the entire keyboard (e.g.: wave, breathe, ripple effects, etc.)

Lighting profiles that can be shared with others in a community-driven marketplace.

A desktop REST API that allows programmers to directly control the light colors with their own scripts.
"When we launched the Das Keyboard 5Q Kickstarter campaign, we were thrilled to see how excited our community and backers were about the product," stated Daniel Guermeur, founder and CEO of Das Keyboard.
"The excitement continues as we launch this ground-breaking product along with its software suite. As keyboards are traditionally used as input devices, the Das Keyboard 5Q has the capability to be an output device. It is truly innovative, and we think it will change the way keyboards are used forever."
In addition, Das Keyboard is developing a 5Q community-driven marketplace where developers can share their open source Q apps.
On the hardware side, the Das Keyboard 5Q offers ground-breaking technologies including:
Extra-bright RGB backlighting electronics called Das Keyboard RGB+ with custom surface-mount LEDs, optimized lens and ultra-clear light guide - making the 5Q keyboard many times brighter than any other RGB keyboard currently on the market.

New Gamma-Zulu mechanical switch developed by Das Keyboard and Omron (Japan), with 1.5mm actuation point and can withstand 100 million actuations - 100 percent more durable than standard mechanical switches.

Real-Time One (RTO) analog technology detects key presses in 0.4 milliseconds and reports it to the computer in 1 millisecond - up to 45 times faster than other keyboards.

Oversized Q button, also a volume knob, activates the Das Keyboard Q software
The Das Keyboard 5Q is currently available for pre-orders at $229 MSRP.
For more information, visit this page.
Last updated: Apr 7, 2020 at 12:11 pm CDT