Syber Gaming, a division of Cyberpower PC, today announced delivery of its M Series - a family of four mid-tower gaming rigs that pump out the horsepower needed to survive in a virtual reality world.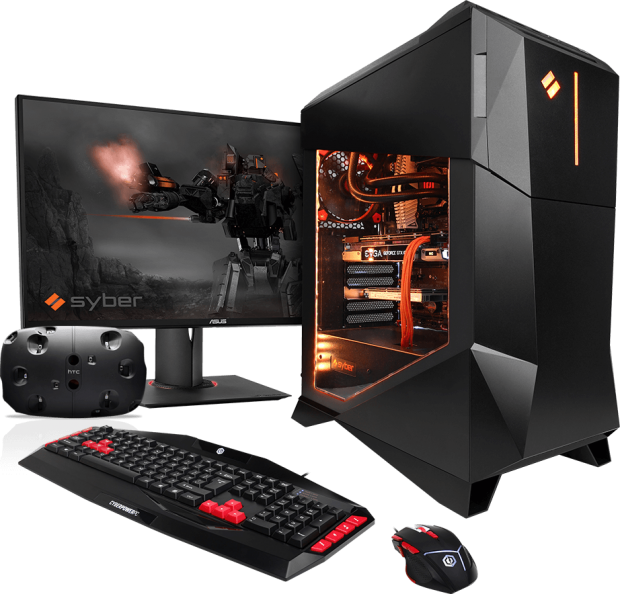 Every Syber M Series build has been designed to be VR-ready with the ability to power the leading VR headsets such as the Oculus Rift and HTC Vive as well as play the latest titles and future game releases at their highest settings.
The Syber M Series has models for every budget from the M Series Core at $799 to the M Series Ultimate - an $1899 VR beast that transports users into an amazing new world of games, video and images. The Syber Ultimate model is powered by Intel's Core i7-6800k CPU and the NVIDIA GTX 1080 8GB, the most advanced gaming graphics card on the market. The GTX 1080 graphics card, based on NVIDIA's new Pascal architecture, delivers up to three times the performance of previous-generation graphics cards, taking gaming and next gen virtual reality experiences to an entirely new level.
Syber knows that graphics processing is the heart and soul of any VR-ready gaming PC. If the action does not keep pace with your motions, you could end up feeling queasy. Whether customers choose M Series Core or the M Series Ultimate with the NVIDIA GeForce GTX 1080 they will be assured their rig can pump out 90 frames per second, which is the standard for VR.
Other VR necessities in M Series models include up to 16GB DDR4 2800mhz RAM; 240 to 512 GB SSDs; 1 to 3 TB HDDs; and a 24x DVDRW or 14X Blu-Ray Rewriter. All models include Asetek 550LC 120mm Liquid Cooling; a Syber M Mid-Tower Gaming Case, and Microsoft Windows 10 preloaded.
All Syber M Series gaming desktop can be custom configured with a number of hardware options, including high-performance gaming memory, solid state drives, graphics cards, and gaming peripherals. Fully-assembled desktop systems from Syber include an industry-leading 3-year limited warranty and lifetime tech support via chat, email or telephone.
Syber M Series Specs: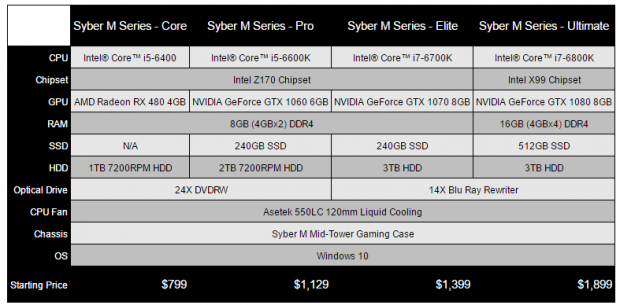 For more information visit http://sybergaming.com/m-series/
Last updated: Sep 1, 2017 at 12:58 am CDT