AccelStor, the software-defined all-flash array provider, will be demonstrating the new NeoSapphire 3706-ES1 all-flash array at the Flash Memory Summit 2016. The NeoSapphire 3706-ES1 is officially launched today and this high-availability all-flash array model provides sustained 360K IOPS for 4KB random writes, with standard iSCSI over 10GbE connections, and its shared-nothing architecture ensures no single point of failure and avoid downtime. In addition, AccelStor will showcase FlexiRemap technology on a new NVMe array platform at the event.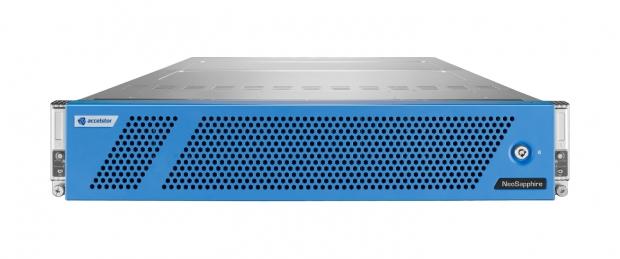 AccelStor's all-flash array products and technology will be on display at Booth #132, in Hall A of the Santa Clara Convention Center, in Santa Clara, California, USA, from August 9 to 11, 2016.
AccelStor Vice President, Dr. Weafon Tsao, who will be giving a presentation at the Flash Memory Summit, said, "It's time for our industry to put to finally rest the outdated idea that flash arrays can offer either performance or reliability, but not both. At AccelStor, our arrays are designed from the ground up for flash, and our software-defined approach gives us the flexibility to respond swiftly to changing market demands, and extract the full potential from the best hardware. That's how we're able to provide high-availability storage device that offers astounding performance as well as great endurance and seamless reliability."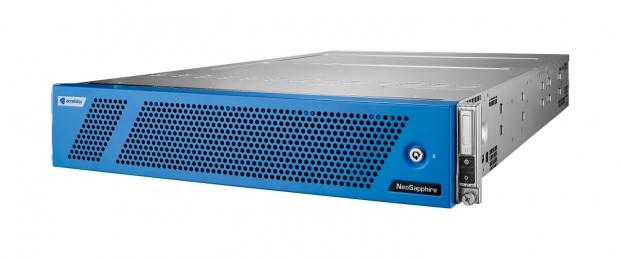 360K IOPS High Performance and Real-time Data Synchronization Reliability
The 360K IOPS NeoSapphire 3706-ES1 offers both responsive speed and dependability, without compromise. This high-availability storage array achieves outstanding reliability and fault tolerance, with almost zero downtime, based on a rock-solid shared-nothing architecture and the active-active failover design. Two complete nodes in a single appliance ensure there's no single point of failure (NSPF).
Even under a massive random I/O workload, AccelStor's unique high-availability extension software, combined with the backbone of the low-latency InfiniBand interlink, enables highly efficient data transfer between the two nodes. Therefore, incoming data can be synchronized in real-time and safely preserved on both nodes.
The NeoSapphire 3706-ES1's redundant design takes flash-drive or critical hardware-module failures in its stride. In addition, when fault recovery is required, the NeoSapphire 3706-ES1 can still leverage AccelStor's proprietary software and the InfiniBand interlink's RDMA (Remote Direct Memory Access) to ensure real-time data synchronization between storage nodes, bringing forward the recovery time objective (RTO).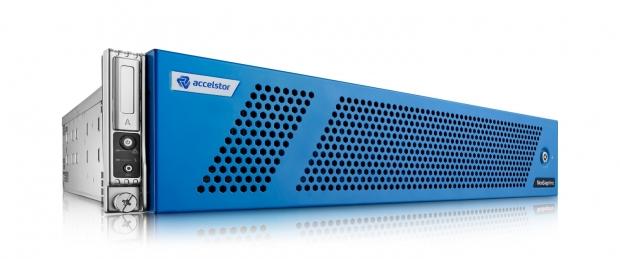 Zero Downtime - True High-Availability Solution
Some storage solution vendors may claim their products offer high availability when in fact they only offer partial redundancy. For example, these products may contain only one shared data storage subsystem. The entire device drops offline if this single critical unit fails. The loss of a single node cannot knock the NeoSapphire 3706-ES1 offline because each node is a full system with both the controller and data storage. The active-active failover design of the NeoSapphire 3706-ES1 means that both nodes operate simultaneously. If one node fails, the other seamlessly takes over, so there is almost zero downtime - the nodes communicate with each other via a high-speed, low-latency InfiniBand interlink. AccelStor promises reduced TCA and TCO while maintaining high performance.
FlexiRemap Unlocks the Potential of Flash
Alongside the NeoSapphire 3706-ES1, AccelStor will also be showcasing a new NVMe flash array at the Flash Memory Summit 2016. Both these devices are equipped with AccelStor's exclusive FlexiRemap software-defined flash technology. With FlexiRemap, data is protected, drive endurance is improved, and random-access speed is accelerated. The technology remaps random data writes as sequential writes when required, avoiding overheads and extending SSD life by eliminating unnecessary writes and erases. The technology achieves sustained performance and reliability even in the random-access scenarios typical of enterprise storage needs. Thanks to the global wear-leveling algorithm, FlexiRemap arrays have at least twice the endurance than typical legacy RAID 5 flash systems, and the technology is exclusive to AccelStor.
For product details and specifications, visit the NeoSapphire 3706 product page at
https://www.accelstor.com/overview.php?id=18
Last updated: Apr 7, 2020 at 12:11 pm CDT