Seagate Technology plc (NASDAQ: STX), a world leader in storage solutions, today unveiled a new portfolio of 10TB high capacity drives dubbed the Guardian Series. Purpose-built to help customers better manage and move the huge amounts of digital data they consume and create, the 10TB Seagate BarraCuda Pro desktop drive, Seagate IronWolf for NAS applications and Seagate SkyHawk for surveillance introduce new brand names and imagery and represent the most complete 10TB portfolio in the industry. The Guardian Series features industry leading technology that raises the bar on features, speed and capacity for use across a wide range of markets, including personal, creative and design computing, online gaming, small- and medium-sized businesses and large-scale surveillance systems.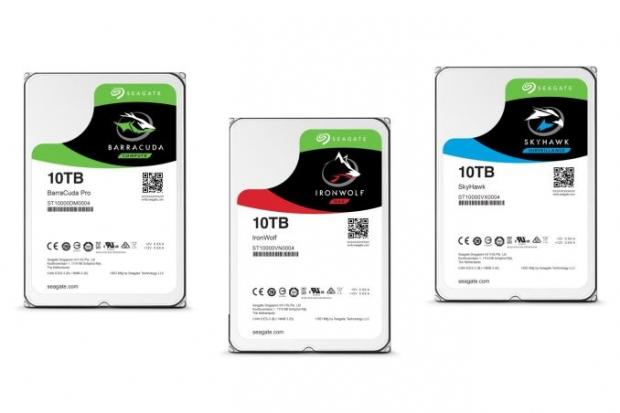 "Consumers and organizations today face a similar challenge -- what to do about the massive deluge of data and video they confront every day," said Matt Rutledge, senior vice president of Client and Consumer Storage at Seagate. "Whether it's dominating in the latest game, producing compelling multimedia content, mining data to help create new apps and business services, helping to protect people and places around the world against new threats, and more, the Seagate Guardian Series is designed to preserve your most critical data and move it where it's needed fast so you can make the most of it. By incorporating powerful new features and capabilities, our 10TB products also make it easier for everyone to create, consume and use data."
Innovative capabilities in the new 10TB drives include multi-tier caching technology (MTC Technologyâ"Ã,¢), an intelligent caching architecture for maximized performance; AgileArrayâ"Ã,¢, designed to optimize drive performance through error recovery control, dual-plane balancing, and power management; and ImagePerfectâ"Ã,¢ for surveillance, supporting more high resolution cameras than any other industry drive.
Seagate's 10TB product branding represents the next phase of the company's new corporate brand unveiled at CES in 2015, in which Seagate introduced its "Living Logo" that visually captured the idea that data is most valuable as part of our daily lives at home and at work. The new Guardian Series product brands link this living data concept more directly to Seagate's foundational technologies in a way that is memorable and easier for customers to understand.
BarraCuda Pro 10TB Desktop Drive
As data becomes the life blood of all online interaction and workforce productivity, Seagate has brought back its hugely popular BarraCuda brand to respond to demands for high capacity storage at an affordable price point. BarraCuda Pro combines 10TB at 7200 RPM for outstanding performance, and includes power-saving features to help keep drive operating costs low, as well as a 5-year limited warranty for peace of mind.
With its enduring legacy of PC Compute drives, BarraCuda responds to market demands for high performance hard drives that don't sacrifice capacity or affordability. The 2.5 inch and 3.5 inch fierce BarraCuda drives offer a versatile and dependable line of hard drives for nearly every application and budget. Lightweight and robust, the 2.5 inch BarraCuda drive delivers market-leading cost/TB options in a thin 7mm form factor with up to 2TB of capacity.
Furthermore, the FireCuda SSHD combines flash with the latest hard drive technology for both 2.5 inch and 3.5 inch offerings. The FireCuda drives ignite both fantastic capacity (up to 2TB) and performance solutions (up to 5 times faster than its HDD counterpart) for gaming and creative applications.
"The Barracuda family has a rich history of delivering reliable drives at an affordable price point for our customers, who are struggling to keep up with the vast amounts of data they're creating and consuming," said Merle McIntosh, SVP Sales and Marketing, Newegg. "Seagate is pushing the boundaries on capacity and a cost-effective 10TB option is a product our customers will appreciate."
IronWolf 10TB for NAS
Tough, ready, and scalable, IronWolf combines the legacy of big iron with tough, pack-leading performance for NAS applications and a wide range of capabilities designed to meet the most challenging always-on environments. NAS-optimized with AgileArray, IronWolf is built with drive balance, and is the first in its class of drives to have rotational vibration (RV) sensors to mitigate vibration in multi-drive systems, RAID optimization for best performance with error recovery control, and advance power management providing power savings in NAS. The result is power when and where it's needed most. IronWolf raises the bar even further with multi-user technology that provides a 180TB/year user workload rate.
"It is critical for businesses with demanding data growth to select the right drive that is optimized for enterprise NAS usage and high capacity data storage," said Jones Tsai, vice president, Hardware Division at Synology Inc. "Seagate IronWolf works seamlessly with our latest technology developments. With the perfect balance of durability and agility, IronWolf meets the requirements to support running multiple enterprise-level applications developed by Synology on NAS."
"NAS hardware and software has greatly evolved to cover potentially limitless applications for home and business users. This evolution now calls for a new breed of hard drive that can provide the capacity, performance and flexibility for next-generation QNAP NAS," said Meiji Chang, GM of QNAP. "IronWolf from Seagate represents a great leap forward for NAS hard drives, and we are amazed at its potential to take QNAP NAS to the next level."
SkyHawk 10TB for Surveillance
An industry first, Seagate celebrates its 10th year of shipping surveillance drives with its latest 10TB SkyHawk offering for surveillance systems relying on large storage solutions for network video recording (NVR). SkyHawk drives use rotational vibration sensors to help minimize read/write errors, and can support the razor sharp vision of 64 cameras, more than any other drive on the market. Ideal for modern, hi-resolution systems running 24/7, SkyHawk drives also come with a data recovery services option for additional peace of mind.
"Seagate pioneered surveillance purpose-built drives more than 10 years ago with Hikvision's R&D team, and today they continue to lead and partner closely with us to develop surveillance storage solutions of the future," said R&D director Mr. Chenghua Sun at Hikvision. "With the advances in camera technology from 4k to thermal to panoramic recording, Hikvision believes in Seagate's technology to optimize storage for highest quality recordings and to ensure customer data is safe and secure."
"Seagate is a powerful storage brand in the surveillance market," said James Wang, vice president of Dahua Overseas Business Center. "We're proud to stand-by them as a strategic partner and to introduce the next evolution of Seagate surveillance storage with SkyHawk and an incredible 10TB capacity point."
"Libraries of digital content continue to expand, both in the home and the workplace," according to John Rydning, IDC's research vice president for hard disk drives. "Seagate's new 10TB HDD product lineup provides consumers and organizations with a range of capacious, on-premise HDD storage alternatives to the cloud that address a wide variety of storage use cases."
IronWolf and BarraCuda Pro are now shipping worldwide, and SkyHawk is currently sampling to select customers with wide-scale availability to be announced shortly. For more information on the Seagate Guardian Series and all Seagate products please visit www.seagate.com/internal-hard-drives.
Last updated: Apr 7, 2020 at 12:11 pm CDT