ADATA Technology, a leading manufacturer of high performance DRAM modules and NAND Flash products, today launched the HD700 and HV620S external hard drives. The two products provide reliable and affordable storage for wide range of users. The HD700 is an entry-level ruggedized, durable hard drive with IP56 water and dust proofing plus military-grade shock resistance. The HV620S is slimmed-down version of the best-selling ADATA HV620, with a sleek glossy exterior and a profile of just 11.5mm. Both drives feature a G-Shock sensor and 256-bit AES data encryption, and are Windows and Mac OS compatible.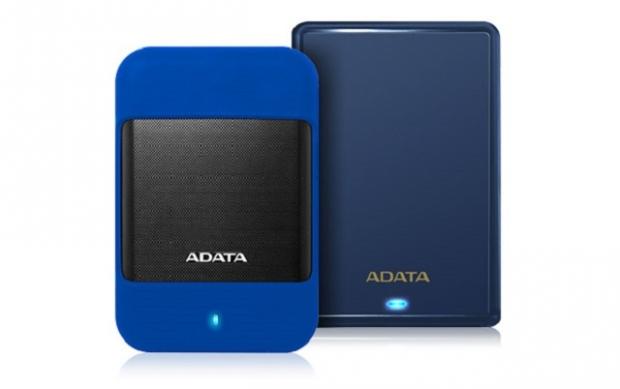 Durable external storage for active lifestyles made even more affordable
The HD700 has been designed for users that enjoy activities such as hiking, mountaineering, kayaking, and cycling. In other words, lifestyles that call for storage to capture experiences as they happen while putting demands on storage devices, namely shocks, vibration, as well as exposure to dust and water.
The HD700 is IEC IP56-certified, meaning it offers dust proofing against all but the finest particles. The HD700 is also water-proof, able to withstand high pressure jets of water. It meets MIL-STD-810G 516.6 drop test requirements to ensure military-grade impact proofing. The HD700 uses multi-layered protection, with a cushioned interior, hardened plastic enclosure, and a removable shock-canceling silicone cover. The HD710 is available in 1TB and 2TB and uses USB 3.0. Its removable silicone covers will be made available in multiple colors, to be announced at a later time.
Super-slim, great value storage for the style and space conscious
The HV620 has been an ADATA best-seller, and the HV620S upgrades on it with a much slimmer design, as denoted by the added S. At just 11.5mm thin, the HV620S is also extremely light and thus very easy to place in bags and carry wherever users go. Its enclosure uses a high gloss finish for an elegant, attractive look, complemented by a bright LED activity indicator. When placed on any surface, the top of the drive is protected against scratches by clearance-providing raised edges. Using USB 3.0, the HV620S delivers quick data speeds for even the largest files. It is available in 1TB capacity.
Availability
HD700 and HV620S will be available at Amazon.com and Newegg.com.
Product Webpage
HD700 http://www.adata.com/en/HDD/feature/381
HV620S http://www.adata.com/en/HDD/feature/380
MSRP
HD700 1TB $69.99 / 2TB $109.99
HV620S 1TB $69.99
Last updated: Apr 7, 2020 at 12:11 pm CDT