Toshiba America Electronic Components, Inc., a committed technology leader, today announces the Toshiba OCZ RD400 Non-Volatile Memory Express (NVMe) solid state drive (SSD) series. Designed for cutting-edge notebooks and PCs, the Peripheral Component Interconnect Express (PCIe) RD400 series provides improved storage bandwidth and enhanced latency resulting in a fast and responsive computing experience.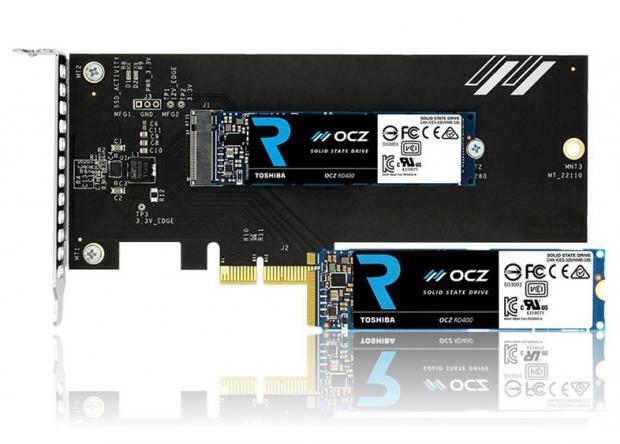 Unlike Serial Advanced Technology Attachment (SATA) based SSDs utilizing the legacy Advanced Host Controller Interface (AHCI) protocol, NVMe is the first storage protocol designed with SSDs in mind making the RD400 series one of Toshiba's fastest consumer SSDs to date. Additionally, the RD400's PCIe Gen3 x4 lane interface shatters the traditional SATA bottleneck by delivering over four times the performance of SATA SSDs. The RD400 series features sequential read/write speeds of up to 2,600 MB/s and 1,600 MB/s and random read/write performance of up to 210,000 and 140,000 4KiB input/output operations per second (IOPS).
"The launch of the new Toshiba OCZ RD400 SSD series delivers enthusiast-level performance in both a compact M.2 and adapter card form factors to provide end-users with high bandwidth and platform flexibility for next-generation NVMe and PCIe mobile and desktop systems," said Steve Fingerhut, Senior Vice President and GM of SSD BU, at Toshiba America Electronic Components, Inc.
"The RD400 gets back to the OCZ brand's enthusiast roots and offers power-users, gamers, and professionals a cutting-edge storage solution designed to support demanding consumer applications."
The RD400 series is targeted at both desktop and notebook users, but the compact M.2 2280 form factor enables ultra-thin notebooks to take advantage of PCIe speeds. Desktop users can still harness the power of the RD400 even if they don't have an M.2 slot by purchasing the PCIe adaptor card version. Both models will be available in capacities of 128 GB, 256 GB, 512 GB, and 1024 GB.
RD400 SSDs feature Toshiba 15nm MLC NAND flash memory and an endurance rating of up to 592 TBW. Each drive is backed by a 5-year advanced warranty program that strives to minimize the aggravation surrounding traditional support and warranty claims.
Last updated: Apr 7, 2020 at 12:11 pm CDT