Seagate Technology plc (NASDAQ: STX), a world leader in storage solutions, today announced it is now shipping in volume its 10TB helium enterprise drives- the Seagate Enterprise Capacity 3.5 HDD. Engineered to meet the storage needs of top cloud service providers, the Enterprise Capacity 3.5 HDD features the industry's lowest power and weight for maximum space efficiency at the lowest energy usage- lowering the overall total cost of ownership (TCO) of today's large scale data centers. Currently the highest capacity drives available worldwide, these innovative new products are now available to purchase direct from global distributors.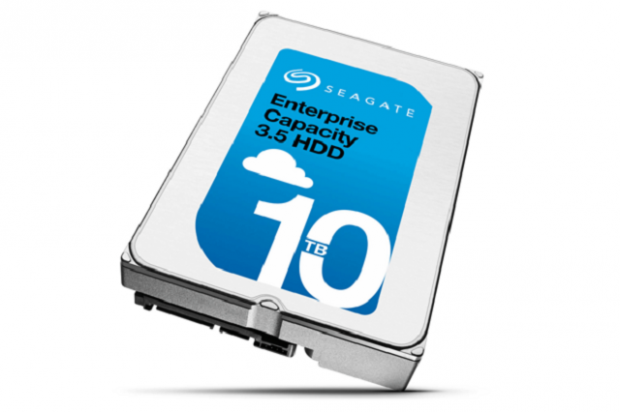 "Seagate has the most comprehensive Nearline portfolio in the industry. Each of our Nearline products - including our new flagship 10TB helium enterprise drive shipping today - is designed to help customers take maximum advantage of top technology trends that have the highest impact on their business," said Mark Re, CTO at Seagate. "While we offer a number of impressive technology advantages, at the end of the day customers really want solutions and insights that help them better leverage the value of their data so they can offer services and capabilities unmatched by their competitors. Seagate's 10TB helium drive is designed with these market mandates front of mind."
"Seagate is once again at the forefront of innovation with our Nearline portfolio. Our new 10TB drive boasts advanced write caching capabilities for better performance and the lowest weight and the best energy efficiency in the industry- making this new drive is a real game changer," said John Morris, vice president of enterprise products at Seagate. "Now shipping in volume to our global strategic customers like Ciara and Supermicro, we are pleased to bring this drive to market with the knowledge that it provides highly-valued and unprecedented performance for our customers' hyperscale solutions."
Announced in January in conjunction with partners Huawei and Alibaba, the Enterprise Capacity 3.5 HDD improves performance by using advanced caching algorithms to help cloud data center managers manage the increasing volume of data more quickly. Featuring Seagate PowerChoiceâ"Ã,¢ technology, the drive helps businesses manage and reduce the ongoing costs associated with power and cooling during idle time, while Seagate's PowerBalanceâ"Ã,¢ feature helps optimize the IOPS/Watt for even greater efficiency.
"Seagate's 10TB Enterprise Capacity 3.5 HDD expands Supermicro's hyperscale server and storage solutions optimized for cloud solution providers. With Supermicro's 4U 60/90 3.5" top-load hot-swap bay server and single expander JBOD storage solutions, Seagate helium-based high capacity drives provide a robust foundation for building OpenStack cloud infrastructure, delivering maximum performance, scalability and capacity density at the lowest overall TCO," said Don Clegg, vice president of marketing and business development at Supermicro.
"Reliability and performance in a storage solution are key criteria for Ciara's cloud initiative. Seagate's new helium-based 10TB Enterprise Capacity 3.5 HDD meets and exceeds both of these criteria," said Darcy Letemplier, vice president of engineering, at Ciara. "Our partnership is a natural choice because of our combined intimate knowledge of the storage industry and a thorough understanding of cloud service providers' needs."
For more information on the new 10TB helium Seagate Enterprise Capacity 3.5 HDD and all Seagate products please visit www.seagate.com.
Last updated: Apr 7, 2020 at 12:11 pm CDT