SanDisk Corporation (NASDAQ: SNDK), a global leader in flash storage solutions, today announced the SanDisk Z410 SSD, a cost-competitive, half-terabyte solid state drive (SSD) that enables manufacturers to design for a broad range of desktop PCs and laptops. The 15-nanometer, three-bits-per-cell based Z410 SSD delivers the performance, capacities and form factor ideal for mainstream computing platforms.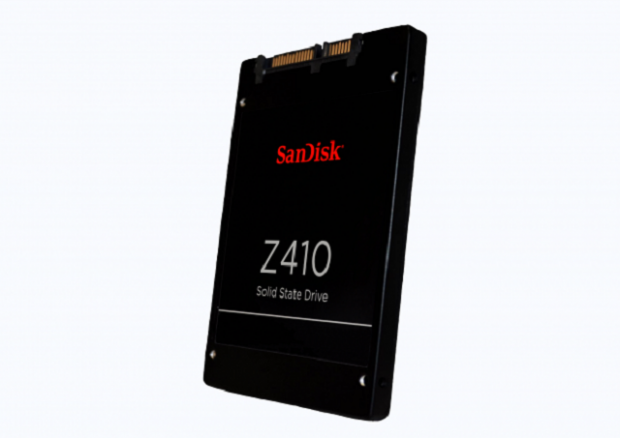 "SSDs are being rapidly adopted as the preferred storage option across the entire spectrum of the PC marketplace," said Tarun Loomba, vice president and general manager of Client Platform Solutions, SanDisk. "In addition to the performance and durability benefits that SSDs provide, the SanDisk Z410 SSD delivers storage that is ample for most consumers and the right-size for typical corporate users. The Z410 is an important addition to our overall SSD portfolio, as our customers require a complete range of storage options, from home/office PCs to the latest high-performance, ultra-thin laptops."
SLC Cache Means a Better Computing Experience
Built on the successful SanDisk Z400s SSD platform, the Z410 SSD features an SLC cache--a combination of SLC and TLC blocks to maximize read and write speeds. This means PC users can expect very short start-up and application loading, making the Z410 ideal for multi-tasking and typical PC workloads such as home/office productivity, web browsing, email, casual gaming and audio/video entertainment.
"The price gap between SSDs and legacy HDD storage is narrowing," said Jeff Janukowicz, research vice president for Solid State Drive and Enabling Technologies at IDC.Ã,Ã,  "Coupled with the inherent performance and reliability benefits, it is helping to propel SSD adoption into the mainstream PC market."
Build Durable, Reliable Systems with Ample Storage Capacity
With up to 480GB of capacity, the Z410 is ideal for manufacturers looking to design durable, energy-efficient computing platforms. Validated for several top OEM platforms, the Z410 is designed to consistently deliver high endurance and reliability for typical corporate, educational and home applications. The Z410 SSD boasts up to 1.75M hours Mean Time to Failure (MTTF), making it an extremely reliable option for PC manufacturers and ultimately for consumers.1 Featuring one of the lowest power draws of any SSD in the industry, the Z410 consumes less power during active use, as well as during slumber and low-power modes.
The SanDisk Z410 SSD is currently shipping in 2.5'' (7mm) form factor at 120GB, 240GB and 480GB capacities, and includes a 3-year warranty. For more information about the SanDisk Z410 SSD, please visit: https://www.sandisk.com/business/computing/z410.
Last updated: Apr 7, 2020 at 12:11 pm CDT