Chenbro, a pioneer specializing in design and manufacture of mechanical solutions for server and storage systems announces its new high performance 2U server/storage chassis - RM23624. Features 24 hot swappable 2.5" drive bays for HDDs or SSDs and a 12Gb/s SAS expander that provides higher performance and reliability that data centers demand.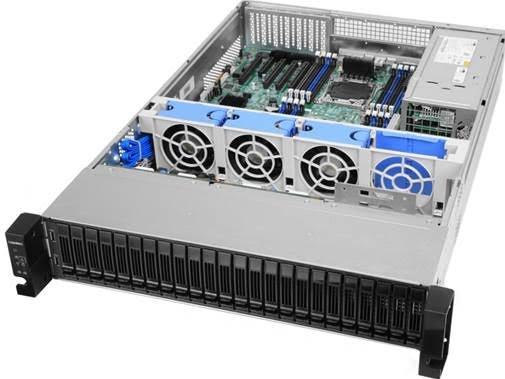 The RM23624 provides a high density storage solution that achieves superior IOPS performance with the on-board 12Gb/s SAS expander to meet the growing demands of high speed storage solutions. "Cooling challenges encountered by placing this many hard drives in a 2U chassis are countered through a strong thermal design by experts from Chenbro, we've established the RM23624 as a reliable and high performing chassis for enterprise storage, online transaction processing, database servers, and other I/O constrained applications." said ST Kuo, VP of Product Development of Chenbro.
12Gb/s SAS Expander with LSI DataBolt
With the 12Gb/s SAS expander the RM23624 allows system integrators and OEMs to build high-performance server/storage solutions to achieve high IOPS performance for the most demanding enterprise applications. Also adapting LSI Databoltâ"Ã,¢ technology that enables bandwidth enhancement to 12Gb/s from existing 6Gb/s SAS structure for performance-intensive enterprise storage environments.
24-Bay Hard Disk /SDD Capacity
The RM23624 maximizes storage capacity in a 2U form factor by offering 24 hot swappable drive bays for HDDs or SSDs. Plus, an additional HDD cage that supports two internal 2.5" drive bays to provide flexibility for OS and system software deployment.
Reliable Thermal Design and Power Supply
Designed with optimal airflow and heat ventilation which provides a reliable thermal structure with up to four patented anti-vibration fans with smart speed control configuration, in addition, two optional 40mm rear fans are also available to achieve maximum thermal performance.
Power supply options include a choice of a single power supply for budget-savvy load outs or 1+1 redundant power supplies are available to prevent system failure and downtime risks.
Easy Maintenance
The RM23624 is easy to maintain with hot swappable drives, cooling fans, and redundant power supplies and tool-less installation of the backplane. Optional 3 (Full height) or 7 (low profile) PCIe expansion slots provide flexibility for expansion needs.
For further details and specifications, visit the RM23624 product page.
Last updated: Apr 7, 2020 at 12:11 pm CDT