ASUS today announced the VivoMini VM65 Series, a range of mini PCs featuring the latest technologies to deliver blazing-fast performance and stunning 4K UHD visuals. VivoMini VM65 Series mini PCs are powered by a choice of Intel Core 'Skylake' processors with DDR4 RAM, and feature discrete NVIDIA GeForce graphics and ASUS SonicMaster-enhanced audio to make them an ideal choice for a daily computing platform or home entertainment hub.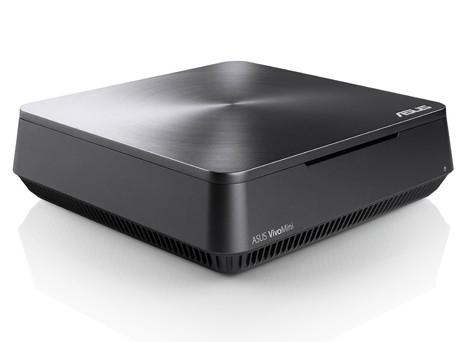 The VivoMini VM65 Series is a range of sub-2-liter ASUS consumer PCs that will bear the new ASUS VivoMini name. Existing VivoPC models (VM62N, VM62, VM60, VM42, VM40B, VC62B, VC60V, and VC60) will retain the VivoPC branding.
Intel Core performance and discrete NVIDIA graphics
VivoMini VM65 Series mini PCs are powered by a choice of 6th-generation Intel Core processors and feature up to 16GB DDR4 RAM to provide users with fast and efficient performance for daily multitasking computing.
The higher-specification VivoMini VM65N has discrete NVIDIA GeForce 930M Optimus graphics and 4K UHD display support to allow users to enjoy stunning videos, play casual games at their highest settings, or view incredibly-detailed photos. NVIDIA video cards deliver a performance boost of up to 56% over PCs with integrated graphics, making VivoMini VM65N an ideal photo or video editing platform.
VivoMini VM65 Series mini PCs come with built-in SonicMaster speakers - doing away with the need for external speakers. This gives VivoMini VM65 Series deep rich bass and crystal-clear vocals, even at the highest volume levels.
Extensive connectivity including SuperSpeed USB 3.1
The VivoMini VM65N model features SuperSpeed USB 3.1[1] for twice (2X) the data transfer speeds of USB 3.0 and up to twenty times (20X) that of USB 2.0. It has two USB 3.1 and four USB 3.0 ports, so users can hook up a USB keyboard, mouse, and printer, and still have ports available to charge their mobile devices. There is also a 4-in-1 card reader, an audio-output jack, as well as DisplayPort++ and HDMI ports.
VivoMini VM65 Series mini PCs can support up to three independent displays through HDMI and DisplayPort++. This gives users more onscreen space for multitasking, allowing them to spread out work windows, mirror content, or extend a single window across multiple displays. There is even touchscreen support for intuitive fingertip input.
VivoMini VM65N features an Intel Wi-Fi card for superfast connectivity. Users can use the exclusive ASUS Media Streamer and Remote Go! apps to stream music and video files smoothly, or control VivoMini VM65N remotely. It also has built-in Bluetooth 4.0.
Vivo DualBay for flexible storage options and upgradability
VivoMini VM65 Series mini PCs feature Vivo DualBay, a unique dual-storage design that can accommodate a combination of up to two 2.5-inch SSDs and HDDs for added storage flexibility. This gives users the option to mix and match SSD or HDD options for an ideal balance between larger storage capacities or faster data access speeds. Models without Vivo DualBay will have a single 3.5-inch HDD.
A single 3.5-inch HDD, or two 2.5-inch HDDs via Vivo DualBay, would be sufficient to store entire movie or music libraries; while a combination of a 2.5-inch HDD and an SSD would be a perfect choice for fast operating system boot times and lightning-fast application launches. The Good Design Award-winning VivoMini VM65 Series mini PCs have the iconic Zen-inspired spun-metal finish. The elegant Iron Gray color scheme makes them a striking addition to any home.These mini PCs can be VESA-mounted on the back of a display to create a custom all-in-one PC.
Last updated: Apr 7, 2020 at 12:11 pm CDT