Independent developer Pixel Titans and apocalyptic death cult Devolver Digital have entered a blood oath to usher in the brutally violent demise of all humanity, with the release of the greatest (and final) game of all time, STRAFE, in early 2017.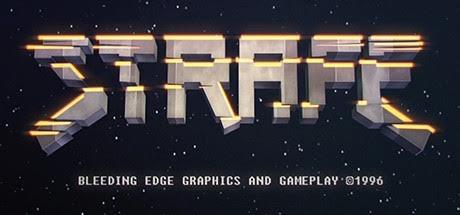 Known to its previous victims as "the fastest, bloodiest, deadliest, most adjective-abusing, action-packed first-person shooter of 1996," STRAFE has pushed the limits of computer-generated photorealism and hardcore sci-fi action so far, it's doomed the human species to a fate so terrifying, so unreal, billions quake at the mere thought of not getting a chance to play it on release day.
"People want blood. They want tight action," said Thom Glunt, director of STRAFE. "They want speed that makes their face melt off, so they can scoop up the soupy remains and toss it in the air like a liquid confetti. Nobody gets that like Devolver Digital."
Devolver was also drawn to STRAFE's roguelike elements, with randomly-generated levels, enemies, secrets and monster closets that promise infinite replayability with pure mayhem every time. Players simply grab a gun, teleport into a unique level set, and paint the walls red, with ÃÆ'Ã..."BER-GORE technology that allows for ludicrously persistent gibs. The only thing greater than the blood flow will be the future cash flow.
"Once everyone is dead, then we can take literally all of their money," said Fork Parker, Devolver Digital CFO. "Who's gonna stop us? You? You'll be a boiling puddle of entrails with more important things to do, like replacing the office chair you just dissolved through. And good luck, 'cause you're bankrupt."
STRAFE is set to indiscriminately terminate everyone you know and love in early 2017, releasing on PC, Mac, and possibly Linux, if everyone would stop fucking asking about it. Oculus Rift compatibility will give players the option to die in style, with dignity.
For more information, visit www.strafe1996.com or follow @Strafegame, @DevolverDigital and @BaueFuneralHome on Twitter.
Last updated: Apr 7, 2020 at 12:11 pm CDT