Western Digital Corporation, a world leader in storage solutions, today announced the expansion of its award-winning portfolio of performance storage solutions with 8 TB capacity drives for NAS, video surveillance and desktop external applications. Increasingly centralized, rich-content, which continues to grow in popularity among enterprises, small business and consumers alike, is driving demand for greater storage capacities.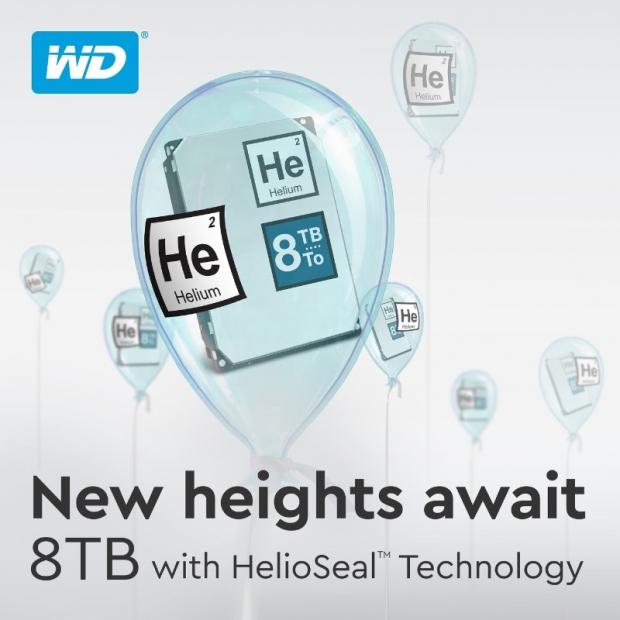 Launching throughout the first half of 2016, My Cloud personal storage devices (My Cloud, My Cloud Mirror, My Cloud EX2 Ultra), My Book external hard drives (My Book, My Book for Mac, My Book Duo and My Book Pro), WD Red, WD Red Pro and WD Purple hard drives will all be designed with the new high-capacity configuration. Each storage solution offers purpose-driven engineering and HelioSeal helium-technology with the new 8 TB drives for maximum and efficient performance in the applications for which each model is designed.
"We are committed to integrating high-performance, high-capacity and high-quality drives into all of our solutions," said Brendan Collins, vice president of product marketing, Western Digital Corporation. "No matter what market or application, we have a solution - whether it's for small businesses, channel partners, enterprises or end-users. Our goal is to deliver the best and most competitive solutions on the market."
The increase to 8 TB or 16 TB (with two 8TB drives in RAID 0) capacity applies to the following WD products:
External Hard Drives
My Book/My Book for Mac -- An external hard drive solution that provides complete backup and storage with USB connectivity.

My Book Duo/My Book Pro - Dual-drive external hard drive solutions which provide ultra-fast storage in RAID-0 and complete backup and storage with USB and/or Thunderbolt connectivity and up to 16 TB capacity.

My Cloud/My Cloud Mirror - A personal storage device that plugs into your router at home to provide consumers with their very own private cloud.

My Cloud EX2 Ultra - As part of the creative professional series of My Cloud products, the My Cloud EX2 Ultra provides high-performance two-bay network attached storage.
Internal Hard Drives
WD Purple - Engineered for 24/7, always-on, high-definition surveillance security systems that use up to eight hard drives and up to 32 cameras

WD Red - Optimized for personal, home and small business NAS (network attached storage) systems

WD Red Pro - Optimized for small business and enterprise class NAS systems with high performance and reliability.
Availability and Pricing
My Book and My Book for Mac 8 TB is currently available at select U.S. retailers, distributors and through the WD Store. Manufacturer's suggested retail price (MSRP) for the My Book 8 TB (model #: WDBFJK0080HBK) and the My Book for Mac (model #: WDBYCC0080HBK) is $299.99 USD.
Last updated: Apr 7, 2020 at 12:11 pm CDT