LaCie, the premium brand from Seagate Technology plc (NASDAQ: STX), announced a leap forward for its award-winning 5big Thunderbolt 2 professional 5-disk storage solution. Now featuring Seagate's industry-leading 8 TB Enterprise Class hard disks the new LaCie 5big provides more capacity totaling 40 TB, superb reliability and an extended warranty. Built for demanding 4K video workflows, the LaCie 5big still offers stunning Thunderbolt 2 performance and hardware RAID reliability.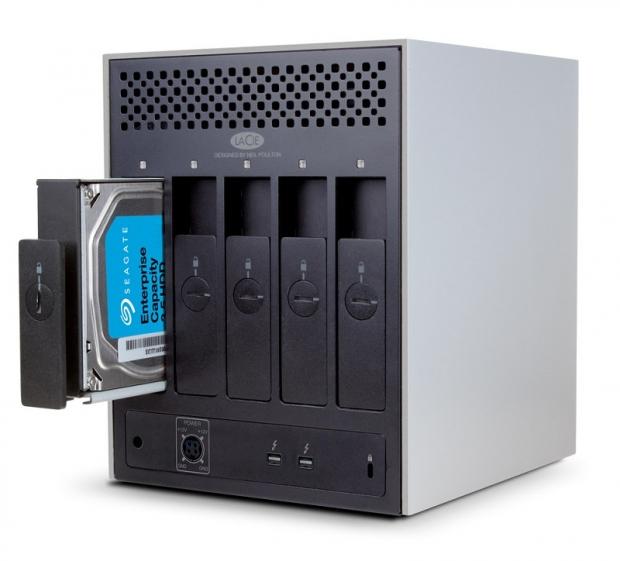 Thanks to Seagate's new 8 TB Enterprise Class hard disks, the LaCie 5big boasts a 33 percent capacity increase, making it the most compact 40 TB storage device on the market. Seagate Enterprise Class hard disks provide superb accessibility, reliability and robust performance. Designed to operate 24x7-versus 8x5 operations for traditional hard drives- they can support 8,760 hours of operation per year for extraordinary availability.
The LaCie 5big with Enterprise Class drives comes with a five-year warranty that covers drives, enclosure and spare parts, ensuring a solid long-term investment. Enterprise Class drives feature 256 MB cache, 7200 RPM and rack environment optimization, offering the ideal solution for handling aggressive workloads. The LaCie 5big with Enterprise Class drives is a dependable solution for critical data workflows
STORAGE FOR THE 4K ERA
Thanks to its Thunderbolt 2 technology, the LaCie 5big delivers incredible, sustained speeds of up to 1050 MB/s. This is enough bandwidth to edit several video streams in native 4K resolution. With this kind of speed, videographers working in Apple Final Cut Pro or Adobe Premiere get maximum quality from footage and see native 4K edits in real-time.
RAID FOR SPEED WITH SECURITY
The LaCie 5big offers a range of RAID modes that allow users to tailor the product to their needs. Its hardware RAID delivers
sustained performance, better flexibility and the ability to connect the product to another computer while keeping the RAID configuration.
RAID modes 5 and 6 provide complete data protection against disk failure, while providing excellent speed and capacity. These features make the LaCie 5big an ideal solution for users that want to use a single storage product for both video editing and backup. In protected RAID modes, even in the case of disk failure, the LaCie 5big's hot-swappable disks mean zero data loss or downtime.
DUAL THUNDERBOLT PORTS
The LaCie 5big features two Thunderbolt 2 ports for daisy chaining. Professionals can daisy chain up to six Thunderbolt devices to a computer via a single cable (included). Thunderbolt 2 is also backward compatible, using the same cables and connectors as first-generation Thunderbolt** devices and computers. Professionals can now create a plug and play 4K video editing environment with increased capacity, incredible speed and convenience to their workflow.
ADVANCED COOLING AND LONG-TERM RELIABILITY
The LaCie 5big's cutting-edge cooling system ensures long-term reliability by preventing overheating. The system consists of three key components: an innovative heat-dissipating aluminum casing, a Noctua cooling fan, and jumbo heat exhausts. The ultra-quiet Noctua NF-P12 fan pulls heat away from the internal components while producing very little noise. Altogether, this professional cooling system makes the LaCie 5big incredibly reliable and perfect for even the most noise-sensitive creative environments. Additionally, the 5big casing is made from a seamless aluminum cast, acting as armor to protect internal components.
AVAILABILITY
The LaCie 5big Thunderbolt 2 featuring Enterprise Class hard disks will be available this quarter in a 40 TB capacity (MSRP $3999.00) through the LaCie online store and LaCie resellers.
WARRANTY
The LaCie 5big with Enterprise Class disks comes with a five-year warranty that covers drives, enclosure, and spare parts, ensuring a solid long-term investment. The warranty includes complimentary web-based resources, expert in-house technical support and worldwide repair and/or replacement coverage. Warranty extension and Advance Care Option can also be purchased.
* These transfer rates were achieved using AJA System Test when connected to a Mac computer via the Thunderbolt 2 interface. Actual data rates may vary depending on operating environment and other factors, such as RAID mode, RAID configuration and disk capacity.
** To achieve full Thunderbolt 2 bandwidth, connect the product to a Thunderbolt 2 port on a computer or device.
Last updated: Apr 7, 2020 at 12:11 pm CDT