SanDisk Corporation, a global leader in flash storage solutions, today introduced the world's fastest microSD card. The SanDisk Extreme PRO microSDXC UHS-II card enables action camera, drone and smartphone users to offload huge video files at unprecedented speeds.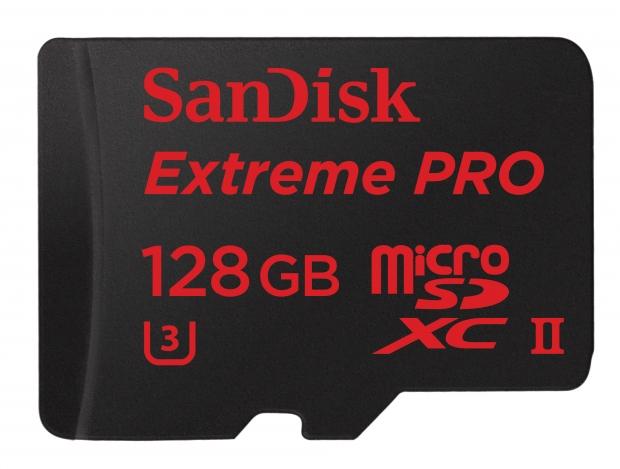 "Action cameras are now the fastest-growing segment in digital imaging and drones are becoming increasingly popular, creating an opportunity for people to capture more high-capacity, high-quality 4K Ultra HD content," said Dinesh Bahal, vice president, product marketing, SanDisk. "We designed this card specifically to address consumers' needs for a faster solution when transferring massive files - and now, with nearly 3x the speed of our fastest microSD UHS-I card, this new offering dramatically reduces time spent transferring content."
The new card, available in 64GB and 128GB capacities, delivers transfer speeds of up to 275 MB/s to offload high-quality content at record speeds. Featuring Class 10 and UHS Speed Class 3 (U3), the SanDisk Extreme PRO microSDXC UHS-II card is perfect for capturing Full HD and 4K Ultra HD video on the latest action cams, drones and smartphones. It also includes a USB 3.0 card reader to conveniently offload files to a PC.
"Today's mobile devices are more sophisticated than ever, and require more advanced technology to deliver the best possible user experience," said IDC Research Director for mobile and tablets Les Santiago. "As the demand for higher quality content such as Full HD and 4K video increases, the need for higher capacity, faster storage solutions grows exponentially. The Extreme PRO microSDXC UHS-II card is at the forefront of delivering solutions that meet these evolving needs."
Built for a New Generation of Devices
The latest action cameras, drones and smartphones are versatile, powerful devices that have expanded the possibilities for high-quality video.
"We empower our creators to capture amazing images around the world, ones that were previously out of reach. High-end professional imagery is captured every day with our products, and SanDisk's new UHS-II card is a great complement to our portfolio," said Basile David, Senior Content Manager, DJI. "These new cards deliver remarkable speeds, giving our creators more time to spend bringing their ideas to life."
SanDisk Extreme PRO microSDXC UHS-II cards are backwards-compatible with UHS-I host devices, performing up to UHS-I speeds allowed by the host device. Also designed for today's durable devices, the cards can keep up in extreme environments. SanDisk Extreme PRO microSDXC UHS-II microSD cards4 are shockproof, temperature-proof, waterproof, and X-ray-proof.
Pricing and Availability
The 64GB and 128GB SanDisk Extreme PRO microSDXC UHS-II cards feature a lifetime limited warranty, and will be available worldwide in Q2 at U.S. MSRPs of $179.99 and $299.99, respectively.
Last updated: Apr 7, 2020 at 12:11 pm CDT