PGL Spring Tavern Tales 2016 reveals player line-up and schedule
With the PGL Spring Tavern Tales qualifiers over, 32 Hearthstone players from Europe are on their way to Bucharest for the February 26-28 LAN playoff event.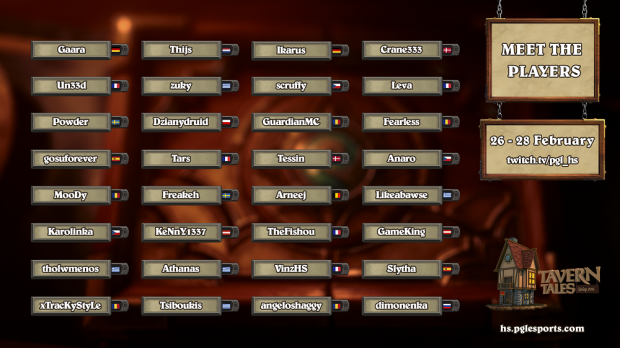 The PGL Spring Tavern Tales 2016 finals will be held in the PGL's brand new Bucharest studios. The lounge area is eagerly expecting to entertain and relax the 32 card slingers that impressed us in the qualifiers.
Thijs "ThijsNL" Molendijk (Netherlands)

Petar "Gaara" Stevanovic (Germany)

Harald "Powder" Gimre (Sweden)

Thomas "Thefishou" Guedj (France)

Gregoire "Un33d" Bodin (France)

Raffael "Gameking" Iciren (Austria)

Remi "Tars" Roesch (France)

Lars "Ikarus" Quilitzsch (Germany)

Jesper "Freakeh" Eriksson (Sweden)

Stefan "Moody" Marinescu (Romania)

Simon "Crane" Raunholst (Denmark)

Mateusz "Dziany" Karwat (Poland)

Giorgos "Likeabawse" Papadimitrak (Greece)

Ivan "Gosuforever" Fernandez Cubillo (Spain)

Kostas "Tholwmenos" Sakellaridis (Greece)

Nistor "xTracKyStyLe" Marius Gabriel (Romania)

Arne "Arneej" Huysegoms (Belgium)

Giannis "Athanas" Athanasiou (Greece)

Thanos "Tsiboukis" Vasilas (Greece)

Cindy "Leva" Xhaard (France)

Nicklas "Tessin" Dittmer Chrisensen (Denmark)

Pavel "Scruffy" Janík (Czech Republic)

Vincent "Vinz" Ralambomiadana (France)

Vlad "Angeloshaggy" Angelo Dumitru (Romania)

Simona "Karolinka" Procházková (Czech Republic)

Giorgos "Zuky" Voudouris (Greece)

Valentin "GuardianMC" Ionita (Romania)

George "Fearless" Arcan (Romania)

Stanislav "Anaro" Jirák (Czech Republic)

Pablo "Slytha" Leon (Spain)

Dima "Dimonenka" Ivanov (Russian)

Christian "Kenny1337" Kretschmar (Austria)
The first day of the event will be dedicated to the Swiss Round stage, followed by a single elimination bracket throughout the weekend, leading to the grand final on Sunday evening.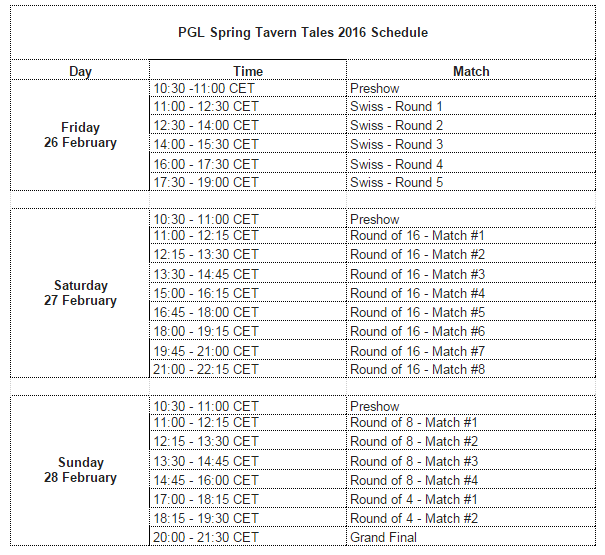 As previously announced, the English broadcast of the tournament will be available on twitch.tv/pgl_hs, with commentary provided by Marcin "Gnimsh" Filipowicz (@gnmishtv), Jakub "Lothar" Szylguski (@lotharHS) and Alex 'Raven' Baguley (@RavenHSUK).
The PGL crew also has several surprises in store for the Hearthstone audience, including fun interactive activities, as well as a new Tavern where guests will spill their secrets and play some showmatches.
Be sure to watch the stream starting at 12:30 CET on February 26th, and follow PGL on Facebook and Twitter to find out more about what's in store for the first Tavern Tales of 2016. Twitch channel: http://twitch.tv/pgl_hs
Official Website: hs.pglesports.com
Twitter: www.twitter.com/pglesports
PGL Facebook page: www.Facebook.com/pglesport
Last updated: Apr 7, 2020 at 12:11 pm CDT
PRICING: You can find products similar to this one for sale below.

United States: Find other tech and computer products like this over at Amazon.com

United Kingdom: Find other tech and computer products like this over at Amazon.co.uk

Australia: Find other tech and computer products like this over at Amazon.com.au

Canada: Find other tech and computer products like this over at Amazon.ca

Deutschland: Finde andere Technik- und Computerprodukte wie dieses auf Amazon.de
Related Tags