Palit Microsystems Ltd, the leading video card manufacturer, announced the latest GeForce GT video card, the Palit GeForce GT 710 series. To make your entire PC experience up to 10x faster than integrated graphics-including web browsing, photo and video editing, and gaming.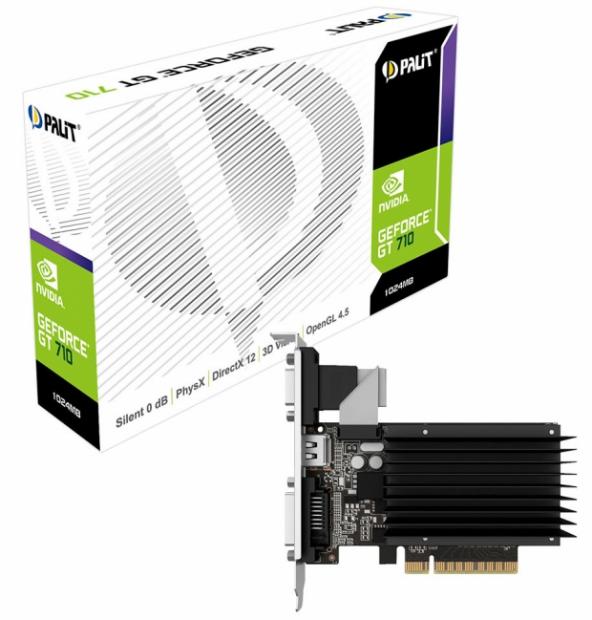 The Palit GeForce GT 710 based on the 28nm GK208 silicon, the chip features 192 CUDA cores, and a 64-bit wide DDR3 memory interface, holding 2GB or 1GB of memory. It features core clock speeds of 954MHz. Based on Kepler architecture, Palit GeForce GT 710 offers ultra low power and great performance and features with 1GB/2GB of DDR3 memory that's superior to integrated graphics in all your PC multimedia applications. Take on modern games with advanced and reliable dedicated graphics. 80% faster performance than integrated graphics means a rich and smooth gaming experience.
Palit GeForce GT 710 series are equipped with variety of video outputs such as Dual-link DVI, VGA and HDMI which are suitable for all kinds of home theater display monitors and can support simultaneously 3 concurrent monitors. With HDMI video output, you can also enjoy the 4K resolution monitor visual effect.. Palit provides 2 thermal solutions, for users who eager to have 0-dB PC environment, can take Palit GT 710 Heatsink solution. Besides Heatstink, for some regions, users who want to have small slim one slot video card to fit in the small PC, Palit GeForce GT 710 active fan cooler can be the perfect choice to pick.
Palit GeForce GT 710 features:
192 Kepler CUDA cores

3 multi displays support

UHD (4K) support

DirectX 12 support

PhysX technology
Last updated: Apr 7, 2020 at 12:10 pm CDT