The Sharkoon DG7000 ATX Midi Tower, designed specifically for gamers, impresses with its unique appearance and astounding functionality. The case, made from robust materials, is suitable for gaming PCs. Thanks to an optimized cable management system the DG7000 always ensures a tidy appearance, which is viewed through the acrylic side window. On the bottom of the case, up to three 3.5" hard drives and a power supply can be installed behind a stealthy panel. Two pre-installed 140 mm LED fans are concealed behind the stunning front with mesh elements, a 140 mm LED is installed in the rear panel. The DG7000 is available in red, blue and green versions, each with matching colored LEDs, LED fans and interior painting. Two USB 3.0, two USB 2.0 and two Audio ports on the case front panel offers easy access for connecting peripheral devices.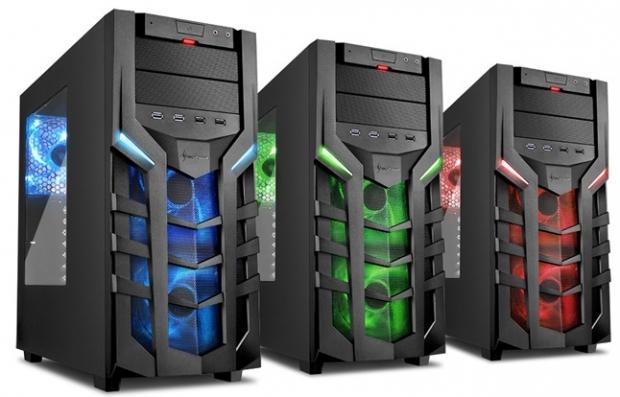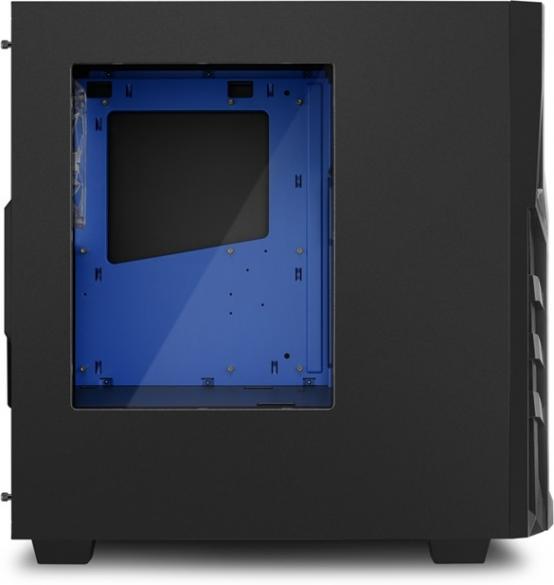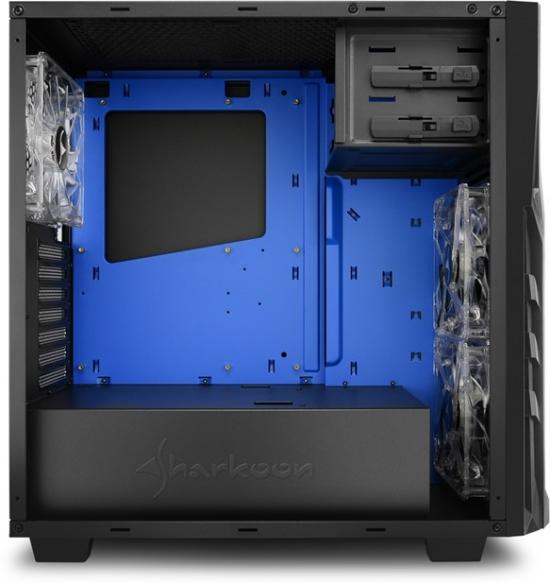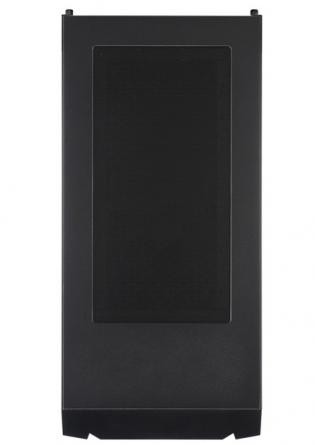 The special design of the case allows discreet cabling plus provides lots of space for the installation of various components. The power supply and up to three 3.5" hard drives can be mounted decoupled behind a panel on the bottom of the case. The mainboard and the component cabling is also discreet. In addition to the CPU cooler cutout, there are numerous other openings surrounding the mainboard for all required cables. For water cooling, the DG7000 offers the possibility of a 280 mm radiator, with a total height of 5.7 cm including fan, to be attached to the front of the case. A tower cooler up to a height of 17.5 cm can be installed. Maximum length for video cards is 38 cm; power supplies with a maximum length of 23 cm. Pre-installed dust filters protect the installed hardware from contamination. For cleaning, they can be easily removed and put back on. Another dust filter is also pre-installed on the top panel, which can be easily removed thanks to the magnetic fastener.
Two 140 mm LED fans are pre-installed in the front; a 140 mm fan is on the rear panel, with each matching the color version of the case. Thus, the DG7000 is already equipped for a powerful yet equally silent cooling direct from the factory. To strengthen internal airflow, the top panel offers space for either up two 120 mm fans or two 140 mm fans. The DG7000 offers tool-free installation for two 5.25" drive bays for optical drives. In total, up to five hard drives can be installed: On the bottom of the case, up to three 3.5" hard drives can be decoupled mounted. Behind the mainboard, the DG7000 provides two vertical supports, with convenient thumbscrews, for up to two 2.5" HDD/SSDs.
The Sharkoon DG7000 is now available for the suggested retail price of 69.90â,¬ from authorized retailers.
Last updated: Apr 7, 2020 at 12:10 pm CDT