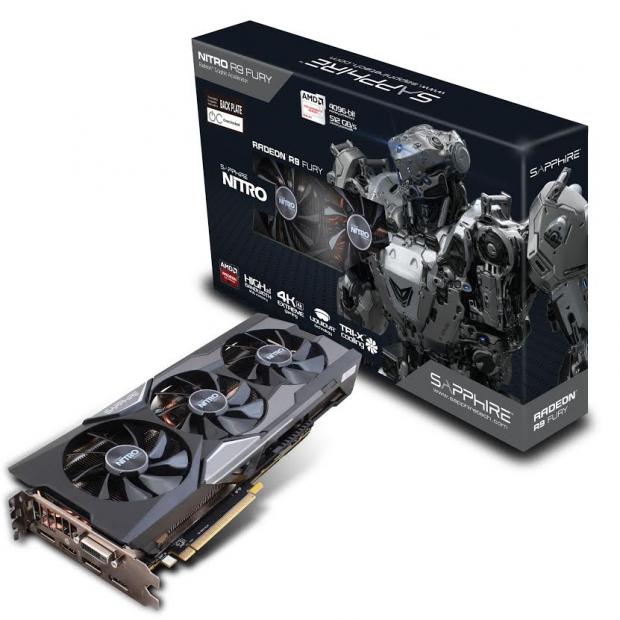 SAPPHIRE Technology is introducing a new flagship card in the SAPPHIRE NITRO Gaming series. The SAPPHIRE NITRO Radeon R9 FURY is filled with innovative technologies and a range of custom solutions designed by SAPPHIRE. The exciting new SAPPHIRE NITRO Radeon R9 FURY is a card for gamers who demand the absolute best from their rig and engage in graphically-intense gaming with the latest state of the art titles. With improvements in VRM circuitry, original PCB design, unique Tri-X cooling and factory-overclocked core, the SAPPHIRE NITRO Radeon R9 FURY is faster and quieter than any competing product.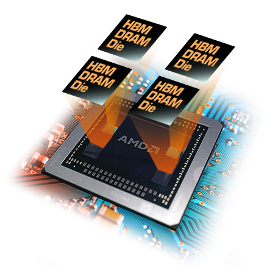 The performance of the SAPPHIRE NITRO Radeon R9 FURY is driven by the AMD Fiji Pro GPU assembled featuring the latest Graphics Core Next architecture, with 3584 stream processors factory-overclocked to 1050 MHz. High bandwidth memory is assembled directly on the GPU module, enabling extremely fast data transfers Sapphire_20155112922between the graphics processor and the memory. With 4 GB of HBM on an ultra-wide 4096-bit bus delivering 512 GB/s bandwidth, as well as the performance of GCN, gamers can immerse into beautiful virtual world's of the latest titles, including Star Wars: Battlefront or Grand Theft Auto V with Ultra detail and 60 frames per second. Full native support for DirectX 12 and Vulkan APIs as well as AMD LiquidVRâ"¢ technology future-proofs the SAPPHIRE NITRO R9 FURY for the upcoming revolution inside gaming for 2016 and beyond.
This new addition to the SAPPHIRE NITRO Gaming series features a version of the highly-acclaimed SAPPHIRE Tri-X cooler developed especially for this card, making it the most efficient cooling solution ever built by the company. Heat is transferred away from the GPU and core components with a solid copper plate and an array of copper heat pipes, including an industry leading 10mm one. Quiet and effective airflow is provided by three 90mm fans, each with aerofoil section blades and dual-ball bearing hubs for long reliable life. A diecast mounting frame supports the PCB and cooler assembly and provides rigidity. The cooler shroud mounts to this frame and controls airflow, and because the cooler assembly extends beyond the PCB, there is an increased air circulation through the end section of the cooler. Finally a thick aluminum backplate reduces the temperature of the PCB mounted components.
The AMD Radeon R9 FURY GPU has multiple thermal sensors and AMD's Advanced Fan Control system which regulates fan speeds by arbitrating the signals from these multiple sources to achieve the lowest fan speeds for a given target operating temperature. The default target temperature results in very low fan speeds and quiet operation even under load. The second generation of Intelligent Fan Control (IFC II) turns off the fans completely for silent operation under light load, controls a single fan under moderate load and all three fans under more demanding conditions.
The SAPPHIRE original reinforced PCB includes an enhanced 6-phase circuit, offer an increased 360 Amp of current for VDDC GPU power on an 8 layer 2 Oz PCB. This helps to maintain stable power delivery and reliable performance with 20% lower VRM temperature for every gamer and, at the same time, improves overclocking capabilities for the enthusiast. In addition the card is fitted with a Dual BIOS Switch, which also regulates the power draw limit. At default position the power envelope is limited to 260W with a target GPU temperature at 75C. In the performance position, this limit is unlocked to 300W with target GPU temperature at 80C allowing more headroom for overclocking.The Black Diamond choke adapted on the design is also fine-tuned to minimize the coil noise.
"2016 is the Year of the SAPPHIRE NITRO Gaming series and we are excited to introduce a new flagship model that is the perfect representation of our commitment to gamers and gaming hardware," said Adrian Thompson, VP of Marketing at SAPPHIRE Technology. "The SAPPHIRE NITRO Gaming Series stands for exceptional performance, outstanding cooling and the best high-end components. The SAPPHIRE NITRO R9 FURY has it all and more, delivering great gaming experiences for our most demanding players".
The SAPPHIRE NITRO Radeon R9 FURY has a SAPPHIRE Performance Index of 5, meaning it is rated at Ultra Enthusiast Level and is suitable for 4K Gaming and demanding multi-monitor applications. For stutter-free gaming, the SAPPHIRE NITRO Radeon R9 FURY supports AMD FreeSync technology with compatible monitors. To support multiple displays, the card is fitted with three DisplayPort, one HDMI (1.4a) and one DVI-D outputs. This enables it to support 5 monitors natively, or up to six monitors with an MST hub or daisy-chain capable monitors.
The launch of the SAPPHIRE NITRO R9 FURY also marks the beginning of a year-long promotion in 2016, the Year of the SAPPHIRE NITRO. Throughout 2016, gamers can participate in exciting regular giveaways and activities and win SAPPHIRE NITRO Gaming series video cards. Starting in January, there will be a chance to win a SAPPHIRE NITRO R9 FURY card. More information is available at SAPPHIRE Nation: http://sapphirenation.net/NitroYear.
The SAPPHIRE NITRO R9 FURY is shipping now, and is available from SAPPHIRE etailers and retailers worldwide.
For more information, please visit www.sapphiretech.com or www.sapphirenation.net, the SAPPHIRE Technology Community blog.
Specifications: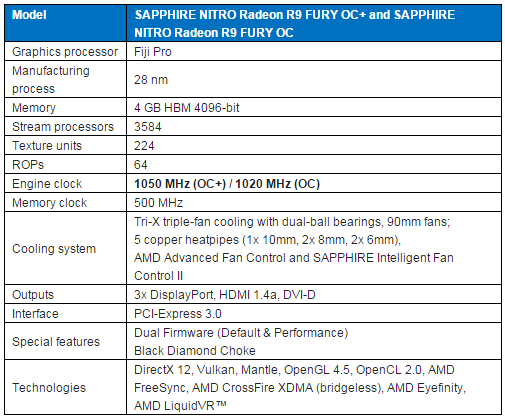 Last updated: Apr 7, 2020 at 12:10 pm CDT