SanDisk Corporation, a global leader in flash storage solutions, today expanded its SSD product line with a new high-performance, durable, water-resistant portable SSD1. Designed for photographers and videographers who need a reliable and superfast storage solution, the SanDisk Extreme 510 Portable SSD delivers whether on location or in the studio.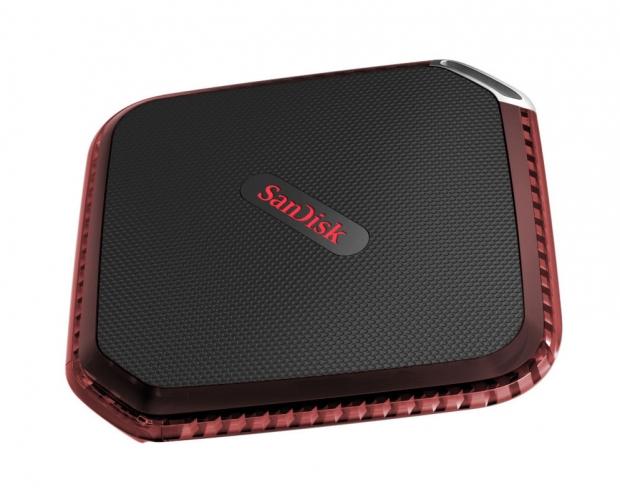 "We are constantly amazed by the stories we hear from our customers about the incredible places they take our products. Their insight inspires us to create durable, innovative products that can improve their experience no matter where the job takes them," said Philippe Willams, director retail product marketing, SanDisk. "For many years SanDisk has been trusted by the pros to deliver reliable, innovative storage solutions, and the SanDisk Extreme 510 portable SSD raises the bar even further."
Tough, Rugged, Water-Resistant
The SanDisk Extreme 510 Portable SSD builds on the compact design of the highly-rated SanDisk Extreme 500 Portable SSD to offer ultimate portability and provide greater protection for users who want to take their storage on-the-go. With its rubber bumper and IP55-rating for water and dust resistance, the SanDisk Extreme 510 Portable SSD stands up to hazards such as rain, spills and rough, dusty trails, while also cushioning against falls.
In a pocket-sized design, the SanDisk Extreme 510 drive delivers powerful performance with transfer speeds up to 430 MB/s to quickly access massive video files or photo libraries - outperforming a traditional external hard drive with speeds of up to four times faster. Available in 480GB** capacity, this all-terrain drive offers high-speed storage for anyone looking for a fast, reliable storage solution that battles the elements.
The new SanDisk Extreme 510 Portable SSD also features SanDisk SecureAccess software with 128-bit encryption to secure files.
Trusted By the Pros
Professionals like Lucas Gilman, adventure photographer and filmmaker, and SanDisk Extreme Team member, rely on SanDisk products to help them produce, save and access their high quality content.
"I am constantly out on location in extreme conditions and need to have the most reliable, durable products available to keep up with my demands. The SanDisk Extreme 510 drive is perfectly sized to clip onto my pack and I don't have to worry about it getting wet or jostled around while I'm working -- I know it was designed to withstand outdoor environments."
Pricing and Availability
The 480GB SanDisk Extreme 510 Portable SSD features a two-year warranty and is available worldwide at an MSRP of $249.99.
Last updated: Apr 7, 2020 at 12:10 pm CDT