Patriot, a leading manufacturer of computer memory, USB/flash memory, SSDs, mobile accessories, and gaming peripherals today announced the Viper Elite DDR4 memory intended for the latest Intel 100 series platform.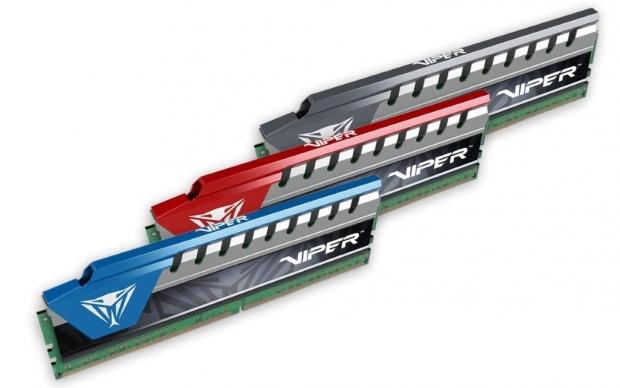 For 30 years, Patriot has manufactured computer memory with the goal of providing high quality DIMMs with an affordable price. The Viper Elite is Patriot's latest offering of DDR4 aimed at consumers looking to upgrade their systems without emptying their pockets. Available in red, blue and grey 16GB (2x8GB) and 8GB (2x4GB) dual kits and a 64GB (4x16GB) quad kit and 32GB (2x16GB) dual kit, in grey only, the Viper Elite pulls as low as 1.2V and as high as 1.35V to allow for ideal power consumption.
"Patriot strives to deliver excellent price per performance when launching a new product," said Les Henry, VP of Engineering at Patriot. "The Viper Elite dual kit is no exception. We want to enable our customers to have the latest and greatest technology at an affordable price and we've done that here; top speeds at an excellent market price."
Delivering speeds of up to 3000MHz in all colors, with the grey heatshield offering an additional 3200 MHz option, the Viper Elite provides a better gaming experience on the latest platforms to gamers everywhere looking for an affordable, yet reliable upgrade for their battle station. Available in three color combinations, the Viper Elite will be available in blue/gray, red/gray and a gray to offer modders a variety of options when constructing their build.
Availability
The Patriot Viper Elite kits (2400MHz - 3200MHz) will be available worldwide starting November 18, 2015 in stores and online at Fry's Electronics, Newegg, Amazon and more for a starting MSRP of $52.99 - $499.00.
Last updated: Apr 7, 2020 at 12:10 pm CDT