In little over six years' time, Fortnite has become one of the best-earning video game franchises in history.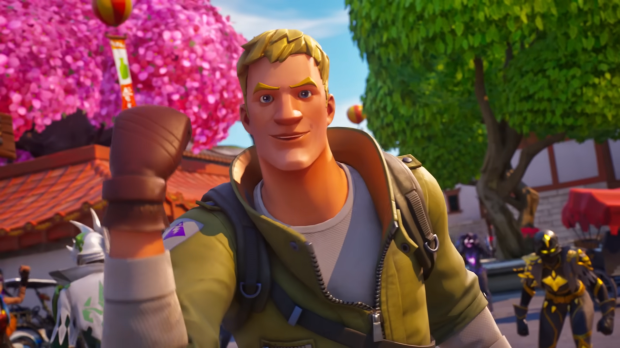 A new updated profile for ex-Epic Games exec Donald Mustard gives valuable data and insight on just how big Fortnite really is. According to the profile, Fortnite has made over $20 billion in revenues, a figure that rivals the top echelon of gaming breadwinners. For context, in just six years, Fortnite has made lifetime revenues that are impressively close to the $31 billion+ that Call of Duty has generated in 20 years.
"During his previous tenure as Chief Creative Officer of Epic Games, Donald's direction and guidance built Fortnite into a cultural phenomenon that currently boasts over 650 million players with over 20 billion dollars in revenue. Fortnite has more than 250 million average monthly players as of 2023 and 25 million players use Fortnite daily," reads Mustard's new profile on AGBO's website (AGBO is the Russo brothers' production company that worked on a myriad of projects).
Thanks to the Epic v Apple trial, we can break down some of this data.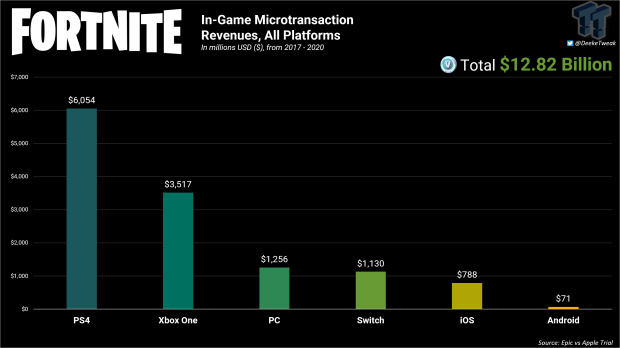 Read Also: Analysis: How Epic Games' grandiose ambitions led to mass layoffs
According to data sheets provided in trial exhibits list, Epic made over $12.815 billion in revenue from Fortnite alone between 2017 and 2020. The data cuts off at 2020 and we don't have figures for 2021, however some industry analysts may have provided some insight with a $5 billion+ figure, but it's unclear how accurate this is.
That being said, Epic's revenue cutoff point means there's an earnings disparity of at least $7.185 billion revenues that would be split across 2021, 2022, and potentially even 2023. This year's revenues may potentially be lower than expected, too.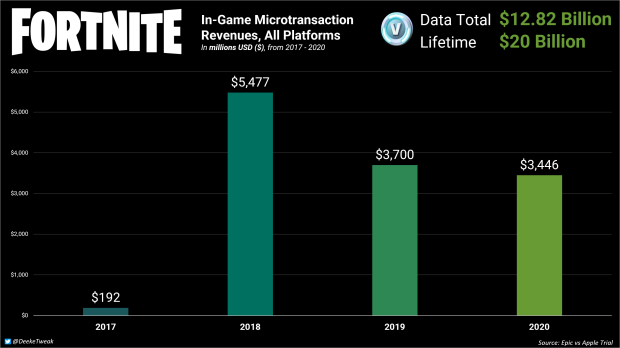 Epic Games recently laid off about 900 workers, or ~16% of its staff, in an effort to reduce costs. Epic CEO Tim Sweeney had told employees that the company had been spending more money than it made for a while, and that the current trajectory was unsustainable.
Epic has received multiple investments across the industry, including a 40% stake purchase from tech giant Tencent, and a recent $2 billion investment from Lego and Sony Corp. At the time of these investments, Epic was believed to be worth in excess of $31 billion.