Epic Games made nearly $6 billion from digital in-game purchases made in Fortnite throughout 2021, handily beating all previous years of mTX sales.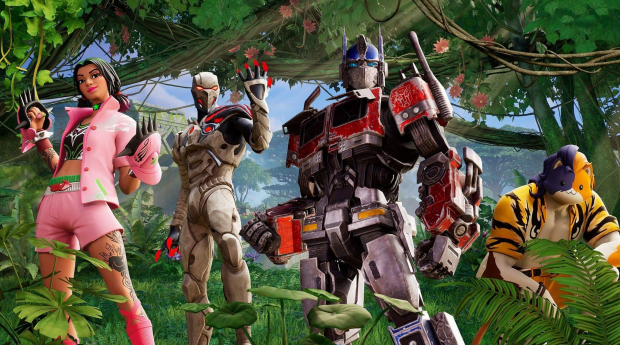 The latest newsletter from games industry expert Joost van Dreunen contains some interesting and unexpected info on fashion. It turns out that Fortnite is the second best-earning seller of apparel when compared up against the likes of mega-brands Gucci, Ralph Lauren, Prada, and Hugo Boss.
According to data compiled by Dreunen, Epic Games' free-to-play sensation Fortnite managed to generate an incredible $5.8 billion from in-game digital cosmetics throughout 2021. This would make 2021 the best year for Fortnite earnings based on our recorded data, and would help push total Fortnite earnings past the $18.6 billion mark.
"In 2021, Epic Games generated $5.8 billion in revenues from in-game items. That may be the result of team Sweeney's ability to generate clever, hilarious, and branded outfits you can wear and show off," van Dreunen wrote in his most recent edition of the SuperJoost newsletter.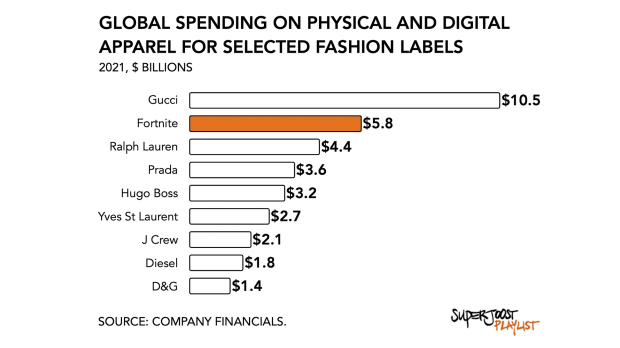 Fortnite indeed has a galaxy of crossovers from the most popular brands, characters, franchises, and stars in the entertainment industry. The steady stream of relevant cosmetics, skins, and updates match up with an incredibly engaged userbase across PC, consoles, and mobile to make a veritable powerhouse of earnings. Epic shows no signs of stopping any time soon and has plans to roll out new updates to introduce a new Optimus Prime skin to accompany the latest Transformers: Rise of the Beasts film.
It'll be interesting to see how long Epic can keep the game's momentum going in terms of spending, and whether or not Fortnite's digital wares will eventually overcome Gucci's real-world style.