How does Tencent compare against gaming's Big 3 platform holders? We run the numbers to find out.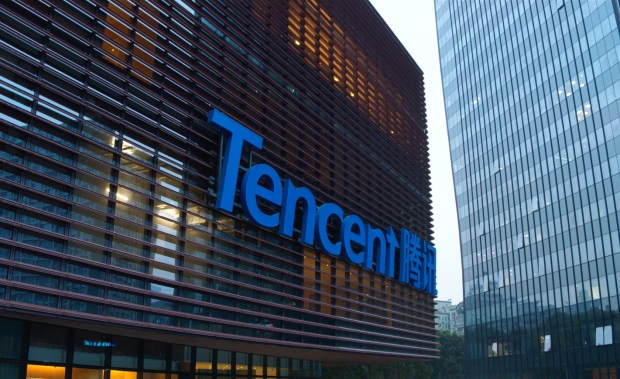 Tencent just published its Q3 2023 earnings report, showing a moderate games revenue increase to $6.47 billion (+5.5% year-over-year). Having just converted PlayStation's JPY figures to USD, this figure stood out to me because PlayStation actually beat Tencent's July - September earnings by delivering $6.61 billion in gaming revenues.
This brought to mind some questions: How many other times did PlayStation beat Tencent? And how does Tencent compare to the other platform holders?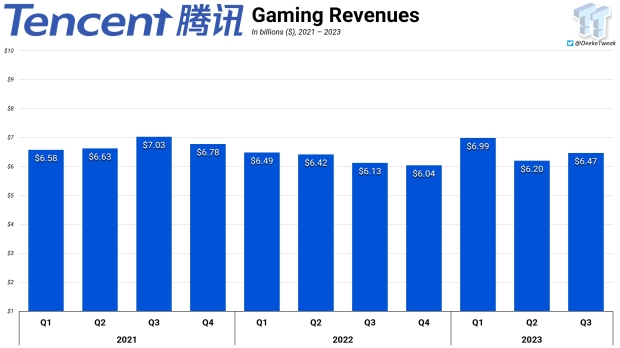 To this out, I ran a series of bulk conversions from foreign currencies over to USD while using the exchange rates provided by each company. Tencent reports its earnings in RMB (Chinese yuan) whereas both Sony and Nintendo report in JPY (Japanese yen).
These rates are also slightly variable between each group. This is not a perfect picture of a company's revenues and things can be tricky when dealing with foreign currency, but the conversions do give viewers a performance estimate relative to USD.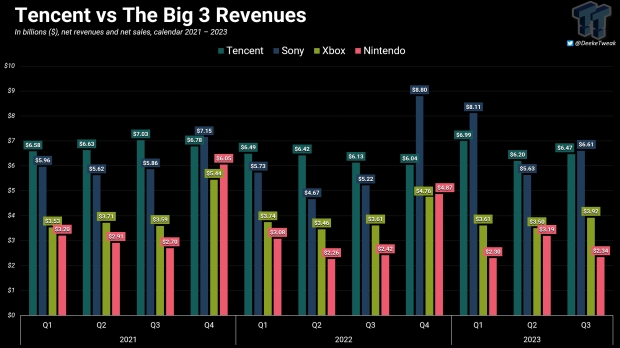 The numbers were very interesting. Not only did PlayStation beat Tencent's revenues for calendar Q3 2023, but Sony's games division has actually made more revenues than Tencent on a converted basis across three other periods:
Q4 2021 (Holiday period, Oct - Dec)
Tencent - $6.78 billion

PlayStation - $7.1 billion
Q4 2022 (Holiday period, Oct - Dec)
Tencent - $6.04 billion

PlayStation - $8.8 billion
Q1 2023 (Jan - Mar)
Tencent - $6.99 billion

PlayStation - $8.11 billion
Q3 2023 (July - Sept)
Tencent - $6.47 billion

PlayStation - $6.61 billion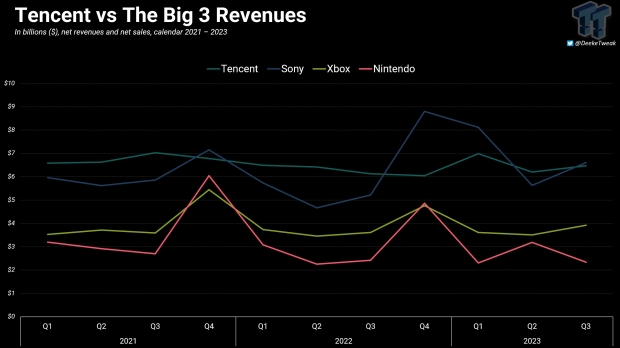 Note Xbox's current positioning in the Big 3, and how it compares with Tencent.
Xbox's revenue position is about to change when it acknowledges and incorporates Activision Blizzard King's revenues into the games account. Microsoft expects Xbox gaming to make as much as $7 billion over the holiday 2023 period, which could very well surpass Tencent's typical end-year performance.