We've been following Seagate's HAMR or Heat-Assisted Magnetic Recording storage tech for a while now, with this new take on the traditional HDD created to deliver customers the highest capacity and efficiency. 32TB and 40TB on a single affordable drive is impressive.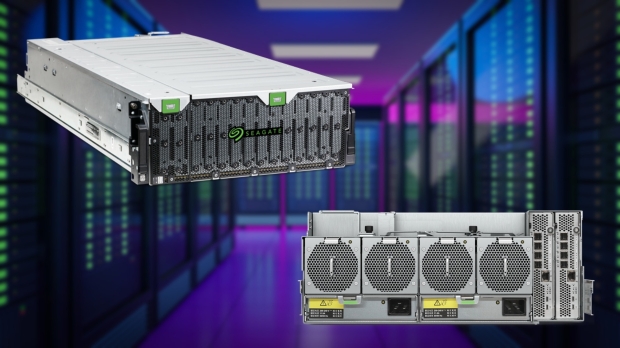 The Seagate Exos CORVAULT 4U106 system, which offers mass data storage in the petabyte realm in a single solution that can improve total rack power efficiency by up to 30%, according to Seagate, makes use of the company's high-capacity Exos hard drives. And yes, this includes a 2.5 Petabyte configuration with Seagate HAMR storage.
Seagate Exos hard drives feature self-healing technology like Autonomous Drive Regeneration (ADR) and Advanced Distributed Autonomic Protection Technology (ADAPT) to reduce downtime, maintenance, and, in turn, carbon footprints and e-waste.
It's wild to think this single-block storage system has a 2.5 Petabyte capacity. Granted, with a 4U Rack Mount form factor that's 1.2 meters deep, it is on the larger size.
For those needing a little refresher in HAMR storage, it's viewed as a game changer for traditional non-flash storage. The increased capacities come via data being smaller and more densely packed with data bits accessed via the HAMR laser heating and cooling in a nanosecond. The HAMR laser doesn't affect the drive's overall temperature or reliability, so it's a storage solution Seagate will deliver to the enterprise market for the foreseeable future.
The transition to HAMR will take some time, so the Seagate Exos CORVAULT 4U106 is also offered in a traditional non-HAMR 2 Petabyte configuration. Both capacities and configurations can be ordered via Seagate storage resellers, with availability expected before the end of December 2023.