Wrapped in gold foil, the latest custom Xbox controller from Microsoft is an edible block of chocolate - with the company calling it the "first-ever official edible Xbox Controller made of 100% pure chocolate." The reason why there's a chocolate Xbox controller is to celebrate the release of the new Warner Bros. "Wonka" film hitting cinemas this December. The promotion also extends to a custom Wonka-Inspired Xbox Series X.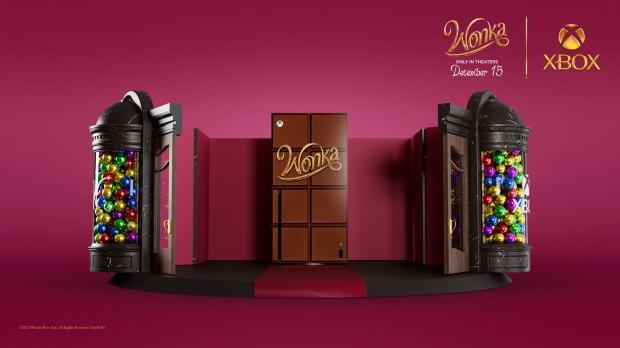 The good news is that the Xbox Series X that looks like a giant chocolate bar isn't edible; it's a fully functioning console with Wonka aesthetics. The custom console is bundled with a console display stand modeled after Willy Wonka's chocolate store. "While the console may look like one of Wonka's famous chocolate bars, the Wonka-inspired Xbox Series X is not edible," the announcement writes.
Best of all, Microsoft, Warner Bros., and the Xbox team are giving away these one-of-a-kind creations via X (formerly Twitter) as part of the latest Xbox sweepstakes competition open to all Xbox regions and markets around the globe.
As for the edible Xbox controller will arrive in an (X)box of Chocolates that will also feature a number of chocolate truffles inspired by Xbox and gaming with names like Button Masher and Achievement Hunting.
Outside of the sweepstakes, where all you need to do is follow Xbox on X and retweet the Xbox sweepstakes tweet to be in the running, the chocolate Xbox consoles and controllers and sweets can also be seen in-person at Microsoft Experience Centres in New York, London, and Sydney.