NVIDIA has its flagship GeForce RTX 4090 graphics card on the market with 24GB of GDDR6X memory, but there was a prototype GeForce RTX 4090 Ti made with a gigantic quad-slot design... and that I/O shield has just hit eBay.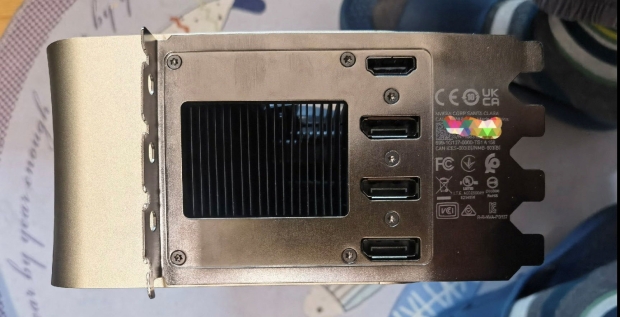 We previously saw the GeForce RTX 4090 Ti prototype quad-slot cooler hit the Chinese black market, and now we've got the RTX 4090 Ti quad-slot I/O bracket. It features the regular 3 x DisplayPort 1.4 connectors and a single HDMI 2.1 port. VideoCardz reports that we're probably seeing the suppliers that made these RTX 4090 Ti quad-slot I/O brackets wanting to offload them because they're useless -- NVIDIA won't release the GeForce RTX 4090 Ti, it seems -- to make some money.
They're actually not badly priced at $25 with free shipping, making for quite the collector's item on the cheap: an unreleased graphics card -- and not just something mid-range, but what would've been a powerful GeForce RTX 4090 Ti -- and while it's only an I/O shield, it's also only $25. Not bad.
Why is the RTX 4090 Ti prototype a quad-slot? That's because NVIDIA was playing around with something truly different with the prototype of the GeForce RTX 4090 Ti, which had a PCB design that was turned 90 degrees. It meant that the board was parallel to the motherboard, which would've been really interesting to see happen, but it would provide far more efficient cooling. We were to expect power numbers of somewhere between 600W and 800W of power, according to multiple leakers.
It seems that the GeForce RTX 4090 is the flagship graphics card we'll see in the Ada Lovelace GPU family, so here's hoping we see that monster quad-slot cooling design -- and interesting PCB and 90-degree installation into the motherboard -- oh, and that beautiful up to 800W of power. I don't care what power the card needs. If it is pumping out 1.5x+ the performance of the card, it succeeds at the top. I'm all for it.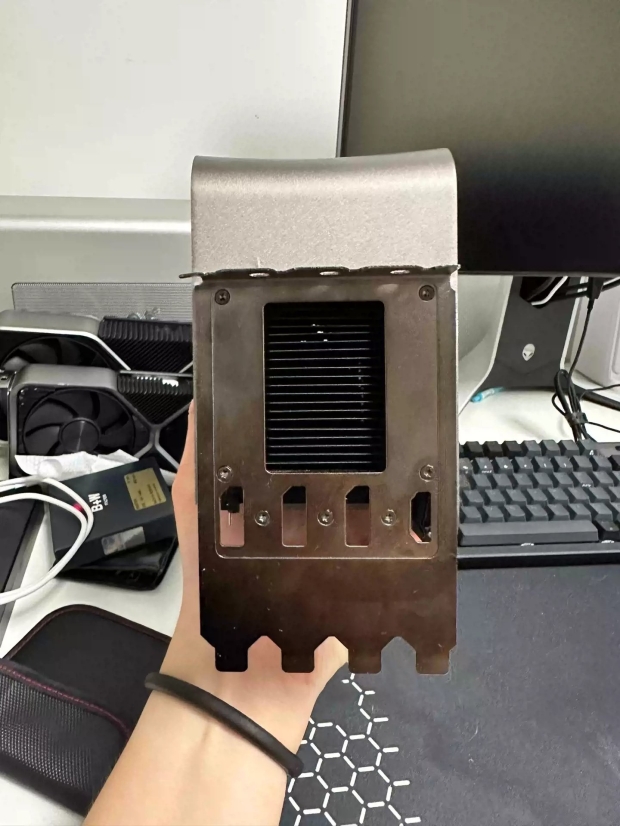 But, the power numbers were overblown leading into the launch of the GeForce RTX 4080 and especially GeForce RTX 4090, with both of those cards very power efficient considering the gaming performance you get from the cards, especially the RTX 4090. They all run far cooler than the previous RTX 3080 Ti, RTX 3090, and RTX 3090 Ti cards... thanks to the shift from Samsung to TSMC process nodes.
So... NVIDIA's next-gen Blackwell GPU architecture is next, so let's imagine a GeForce RTX 5090 or RTX 5090 Ti with a quad-slot, 90-degree angle installation, next-gen Blackwell GPU architecture, next-gen GDDR7 memory, next-gen DLSS4, next-gen ray tracing performance... I mean, why wouldn't you want that?