GALAX teased its new GeForce RTX 4090 20th Anniversary Edition graphics card not too long ago, and now we're hearing some new information: it will be the first desktop graphics card to have an HDMI retimer chip, which allows for longer HDMI cables, something that's actually really handy.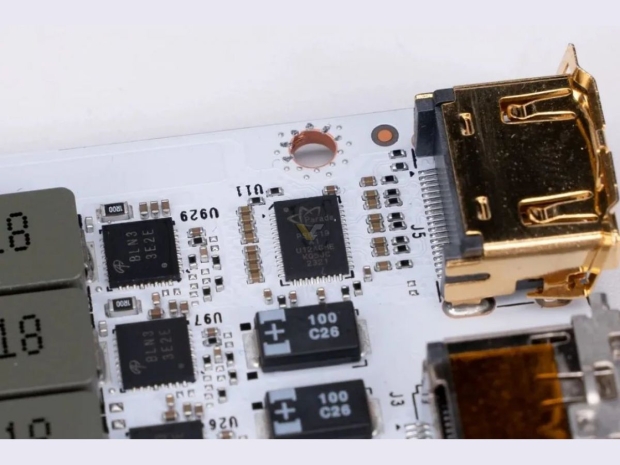 Why is this useful? HDMI retimers have multiple functions and can be installed on not just graphics cards but the receiving end or repeater devices. They will eliminate noise and jitter from signals -- something that's needed for the much higher bandwidth that's being driven through HDMI 2.1, especially important with 4K 120FPS -- over longer HDMI cables.
Personally, one of my systems is plugged into a large 77-inch 4K 120Hz LG OLED TV and an HDMI 2.1 cable, and there's only a certain length I can go up to and maintain the best connection quality. Not that you'd buy this graphics card purely for the HDMI retimer, but it's an enthusiast GPU, so this small touch actually stands out from the rest of the RTX 4090 cards, which is why it's being pointed out. Nice touch, GALAX.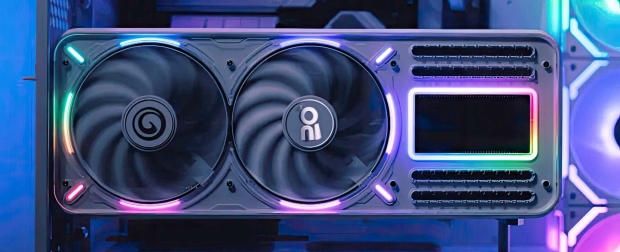 Inside, GALAX is using the Parade PS8419 chip for the HDMI retimer, supporting the full HDMI 2.1 bandwidth with a Fixed Data Link of 12 Gbps, which are the important parts that I was talking about above -- 4K60 and an ultra-high bandwidth of 48 Gbps -- plenty of bandwidth for your gaming TV or monitor with longer HDMI 2.1 cables.
We also get a new look at the PCB that GALAX has used on its new custom RTX 4090 20th Anniversary Edition graphics card, which looks beautiful with its white PCB.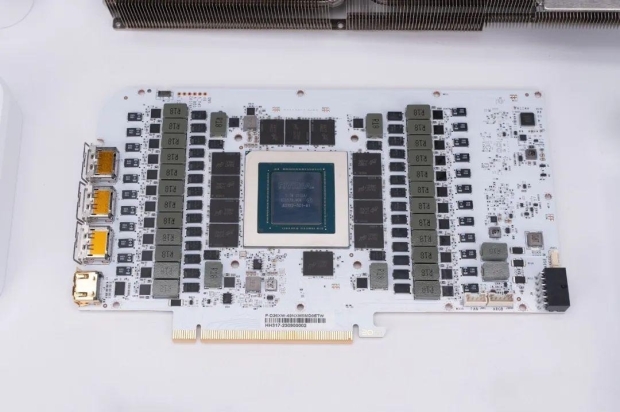 You can see the Parade PS8419 chip to the bottom left (in the photo on the left) and zoomed up (in the photo on the right). GALAX is using a 24+4 power stage that provides power to the AD102-301 GPU and 24GB of GDDR6X memory on the card.
GALAX is using a triple-fan cooler on its custom GeForce RTX 4090 20th Anniversary Edition graphics card, with two fans on the front and a single fan on the back, just like the RTX 4090 Founders Edition. There's a concealed 12VHPWR power connector, which is hidden behind a magnetically attached cover, which does make for a nice and clean look.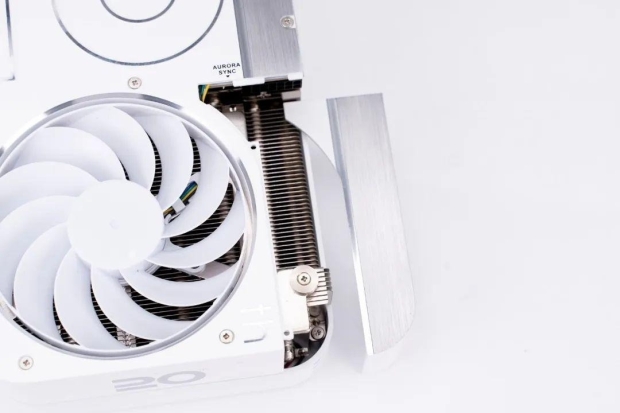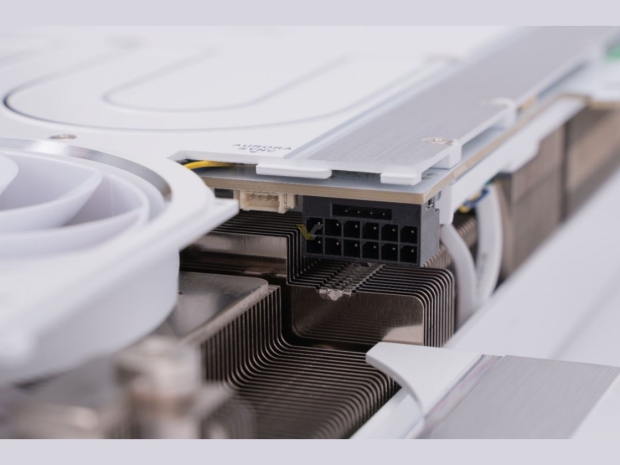 The problem is, finding it... GALAX will see most of its GeForce RTX 4090 20th Anniversary Edition graphics cards sold in China for the most part, and maybe a few overclockers, reviewers, influencers, or YouTubers across the world.