Ausom has announced that it will be launching the "Gallop", an electric scooter that's capable of reaching a top speed of 41 mph.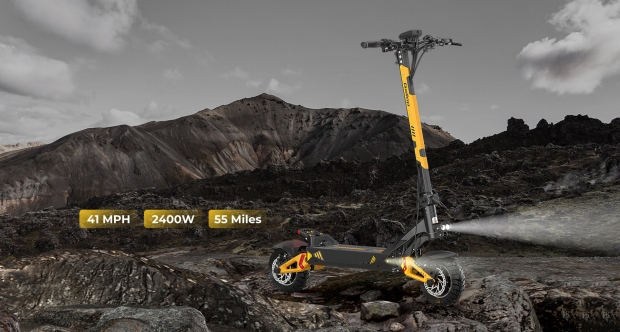 Ausom has taken to its website to showcase the Gallop, which it has outfitted with an incredible amount of technology that pushes the electric scooter to new levels of capability. The company has whacked a dual 1200W powerful motor onto the Gallop that's able to climb an angle of 35%, along with an impressive maximum distance of 55 miles off a single charge thanks to its 23.2Ah removable battery pack.
Furthermore, Ausom has placed dual hydraulic disc brakes on the Gallop that bring the e-scooter to a smooth, safe stop. Additionally, Ausom has included a slick LCD display, shock absorption springs for going over rough terrain, two charging ports, an all-round lighting system, and effortless folding capabilities. As for charging, Ausom writes on its website that its dual charging port design allows the Gallop to reach its maximum charge in just 6 hours.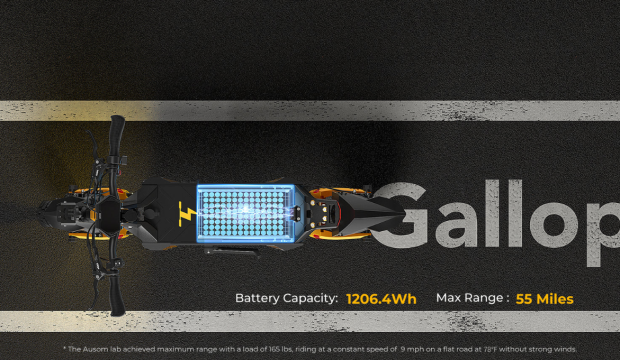 The lighting system on the Gallop is worth mentioning for its 10 individual lights that are designed to illuminate the path before the rider. These lights are a headlight, taillight, two front lights, and six sidelights.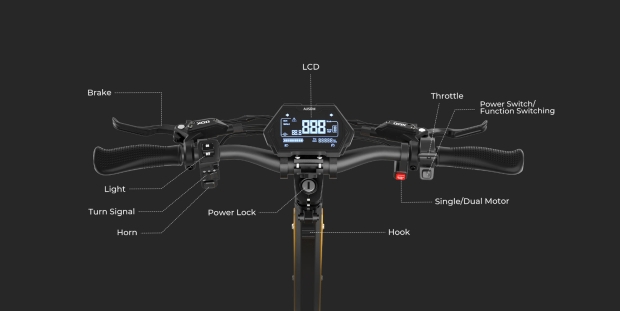 The Gallop measures 53.6 inches in height when unfolded and 22.8 inches when folded down. As for width, Ausom writes on its website that it's 51 inches wide at the base and 25.2 inches wide from one side of the handlebars to the other. Other notable features include non-slip grips, an 8.7-inch footboard, kickstand, and a combination lock that can prevent people from stealing the Gallop.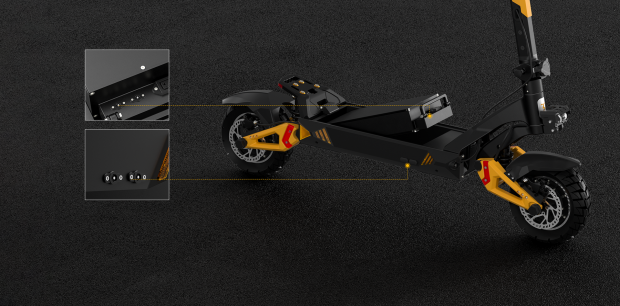 Ausom compares the design of the Gallop to an SUV, writing its 10-inch x 3.15-inch tires are equipped with durable anti-skid technologies that enable the e-scooter to conquer trail obstacles while providing the rider with unparalleled stability.
So, where can you get a Gallop, and how much will set you back? Ausom has announced it will be selling the Gallop on its website and on Geekbuying.com. Ausom is currently listing the Gallop on its website for $1,249.99, and buyers can get a $50 discount by applying the code "GGGALLOP" at checkout. As for Geekbuying.com, the Ausom Gallop is currently listed on the website for $1,239.99, and buyers can get a $10 discount by applying the code "NNNGALLOP".
Main features of Ausom Gallop Electric Scooter:
Dual 1200W Powerful Motors: a top speed of 41mph and a maximum climb angle of 35%

Large Battery & Dual Charging Ports: 23.2Ah battery & 55 miles on a single charge

E-brake and dual hydraulic disc brakes

Smart LCD Display

Shock Absorption

2 professional off-road tires with a diameter of 10 inches and a width of 3.15 inches