A new report attempts to gauge how popular tech firms are by using the number of applicants for various jobs on LinkedIn, with Netflix coming out as the top place folks want to work at.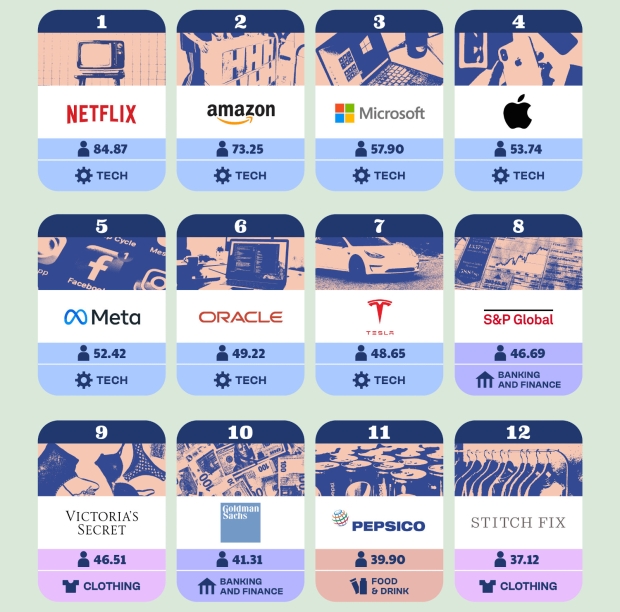 This comes from Resume.io which conducted a study of LinkedIn job postings, keeping tabs on the number of daily applications for a whole swathe of job ads for big tech companies.
Resume.io explained that to compile the figures for the survey, it collected a sample of job ads from big tech firms (and companies in other sectors, too), finding out the number of people who applied, and the time the advert had been in play (listings that were a month or older were discarded).
As mentioned, the top dog in the tech world was Netflix which received 85 applicants daily, meaning that if you're applying to work there - hopefully not under the illusion that you'll be watching films all day (or taste-testing popcorn) - you'll face some pretty stiff competition.
Amazon was in second place for popularity going by applications, with 73 daily, so not far behind Netflix - and Microsoft was in third spot on 58, followed by Apple in fourth with 54 applications per day.
Meta found itself in fifth place on 52 per day (we've rounded these figures, by the way), so very close behind Apple.
Interestingly, tech companies held the top seven spots - Oracle and Tesla followed Meta, with the first non-tech firm, S&P Global, in eighth position with 47 applications per day. Rounding out the top 10 were Victoria's Secret with 46 daily applicants, and Goldman Sachs with 41.
As Resume.io points out, this year and last have been pretty shaky for tech firms, with lots of mass layoffs, sadly - and perhaps those folks looking for reemployment at other tech outfits has been a bit of the story of what has driven up the numbers in this sector. Not that the tech sphere isn't already a popular choice for a career, of course.
Moving away from the most popular firms, and looking at the other end of the spectrum, one of the tech giants to stoke the least excitement amongst applicants is Intel, which has a bizarrely low 12 applications daily. That might be a bit of a worry for Team Blue.
Also languishing down towards the bottom of the tech table were Adobe and NVIDIA (both with 25 daily applicants), Uber (19) and Salesforce (14).
As ever, one study is far from a complete picture of the tech employment situation, so add salt appropriately with the findings here.