The first version of Microsoft Word for Windows debuted on October 25, 1983 - a couple of days before the release of Star Wars Episode VI: Return of the Jedi. If you have vivid memories of one or both of these events, you're one of what the young people these days call "the olds." Don't worry, putting a reference to one of the most popular albums from 1998 in the headline probably puts me in the same category.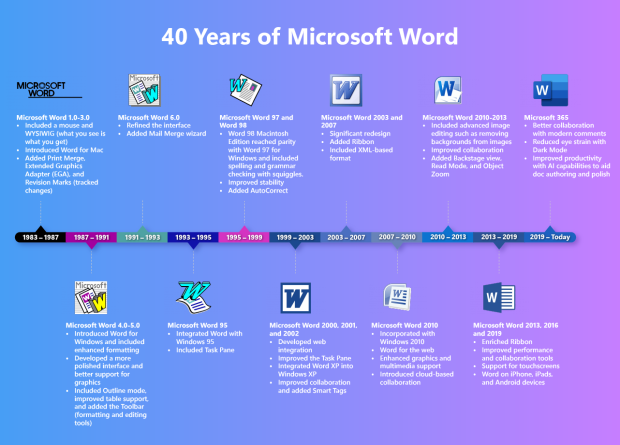 Yes, Microsoft Word is now 40 years old, and to celebrate the occasion, Microsoft has posted a nice little timeline to commemorate the history of the Word Processor. The very first version of Word shipped with a mouse, and as you can see from the YouTube clip from Aldo Computers below, there was a little tutorial on how to use the strange new input device.
The WYSIWYG or 'what you see is what you get' design meant that whatever you saw on screen was exactly how the document would print. It was most likely on one of those dot matrix printers that made sounds like they were a secret weapon in Wolfenstein 3D.
Word wasn't the first productivity app or word processor to hit the market, but it's certainly the most enduring. At the time, Microsoft was competing with the likes of Apple and Lotus. With so many revisions and updates over the years, the latest version (part of the Microsoft 365 suite) is not only accessible online but is now kitted out with AI capabilities.
My Microsoft Word memories (if you can call them that) bring me back to high school and using Microsoft Word 98 to type up assignments and marvel at all the red squiggly lines. Turns out I wasn't a very good speller.
"As we look to the future, we are committed to carrying the torch and building on the foundation that was put in place in 1983," writes Microsoft in the celebratory post. "Our unwavering focus is on ensuring that Word scales to support users as they complete any writing and reading tasks - anything from straightforward to complex - as efficiently as possible."
Regarding AI, integrating Copilot into apps like Word and Windows has been one of Microsoft's big moves in recent months. AI tools and features will undoubtedly be a big part of the app going forward and might define the next 40 years of Word. Either way, here's hoping that with AI, Microsoft brings back 'Clippy.'