ASUS is working on a wide range of new ROG Z790 motherboards, ready for Intel's upcoming 14th Gen Core "Raptor Lake Refresh" processors that are right around the corner, led by the new flagship Core i9-14900K processor.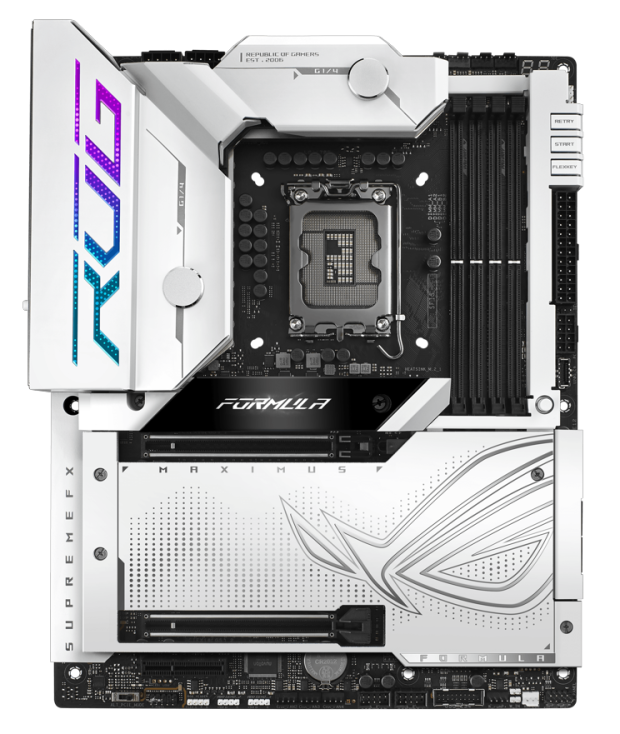 We already knew of the new ASUS ROG Maximus Z790 motherboards in recent leaks. Still, now we're getting some new photos of the ASUS ROG Maximus Z790 Formula, ROG Maximus Z790 APEX Encore, and the new ROG Strix Z790 motherboards that will work with the new Raptor Lake Refresh CPUs from Intel.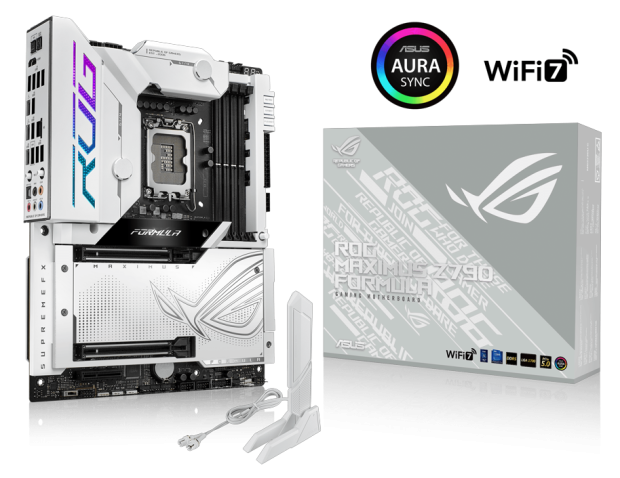 ASUS ROG Maximus Z790 Formula motherboard: we have an interesting "ROG Water-Cooling Zone" that lets you hook a liquid cooling loop directly into the motherboard. This will water-cool the super-hot VRMs that are being pushed to the max when you're overclocking your Core i9-14900K processor on this board.
Other than that, we have a gigantic E-ATX form factor, 4 x DDR5 DIMMs, and 2 x PCIe Gen5 x16 slots for a pretty good setup of connectivity. This is extended by the Z790 Formula motherboard also featuring the newer Wi-Fi 7 standard (the previous-gen board had Wi-Fi 6E).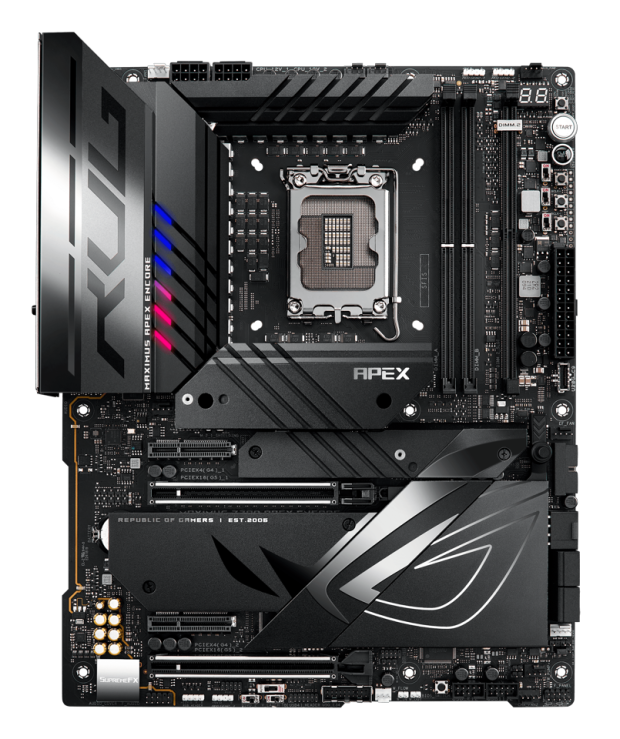 ASUS ROG Maximus Z790 APEX Encore: we do have some differences here, which I kinda dig: there's an active fan cooler that attaches to the motherboard so that it cools down your DDR5 RAM. This is actually kinda cool -- pun not intended, but it works here -- as it'll keep your heavily overclocked DDR5 RAM cooler during benchmarking and overclocking runs.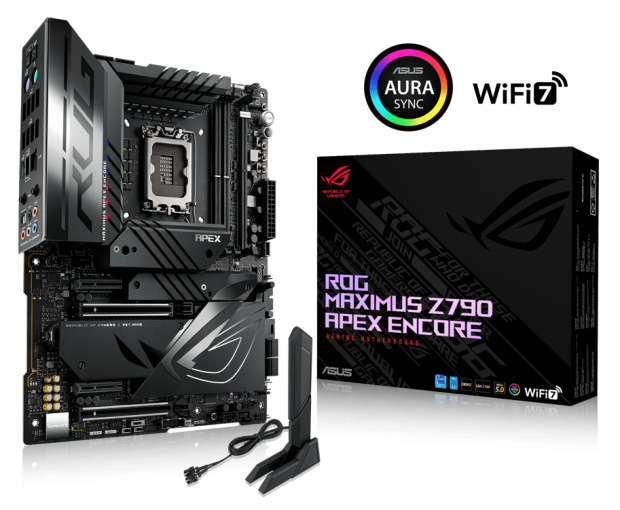 Not only is there an active fan for the DDR5 memory, but we've got dual 8-pin connectors that will help with the supply of more power to the Z790 APEX Encore when you're overclocking a CPU like the Core i9-14900K processor. There are also 9 x USB 3.2 ports, Wi-Fi 7 support, BIOS flashback functionality, and a clear CMOS button on the board. Oh, did we mention there are some old-school PS/2 connections for overclockers? Very cool to see.
Which models are they? ASUS has a few new motherboards that were teased, with the ROG Maximus Z790 Formula motherboard in its white-and-black aesthetic, which looks unique. There's also the ASUS ROG Maximus Z790 APEX Encore motherboard in the usual ROG aesthetic, and then finally, we've got the ROG Strix Z790-F Gaming Wi-Fi II motherboard.
What CPUs do they support? The new Z790 motherboards from ASUS were built to work with Intel's soon-to-be-released 14th Gen Core "Raptor Lake Refresh" CPUs, like the new Core i5-14600K, Core i7-14700K, and flagship Core i9-14900K processors. But, the LGA1700 socket means it'll work with previous-gen 12th Gen Core and 13th Gen Core CPUs. So you could theoretically upgrade your old CPU into this new motherboard if you really wanted, but to squeeze the best out of this board, you'd ideally want to slot in a new 14th Gen Core CPU.
Do they work with the new 14th Gen Core CPUs? Yes of course, the new 14th Gen Core "Raptor Lake Refresh" CPUs are perfect for this motherboard. Teamed with a mid-range Core i5-14600K or flagship Core i9-14900K and a new graphics card like the GeForce RTX 4080, or if you want a 4K 120FPS-capable GPU, the GeForce RTX 4090... and you'd love this setup.
What about the new Raptor Lake Refresh CPUs? Speaking of the new Intel Core i9-14900KF processor, we had leaks yesterday teasing more official specifications of the Raptor Lake Refresh flagship CPU. Intel's new Core i9-14900KF is expected to roll out with 24 cores and 32 threads of Raptor Lake Refresh CPU power, clocking up to 6.0GHz, which is simply magical.
We've got 8 Performance cores and 16 Efficient cores in tow. At the same time, there will be Core i7-14700K is set to debut, boasting an impressive configuration of 20 cores and 28 threads, featuring a base clock speed of 3.4GHz that can dynamically boost to an impressive 5.6GHz. Meanwhile, the Core i5-14600K offers a robust 14 cores and 20 threads, equipped with a base CPU clock of 3.5GHz, which can ramp up to 5.3GHz when needed