T-FORCE XTREEM DDR5 memory is the latest high-speed RAM from TeamGroup designed specifically for gamers and overclocking with speeds starting from 7600 MHz to an impressive 8200 MHz. Compatible with Intel 700 series motherboards, these premium memory kits will be available in 48GB (2 x 24GB) and 32GB (2 x 16GB) capacities when they launch later this month in North America.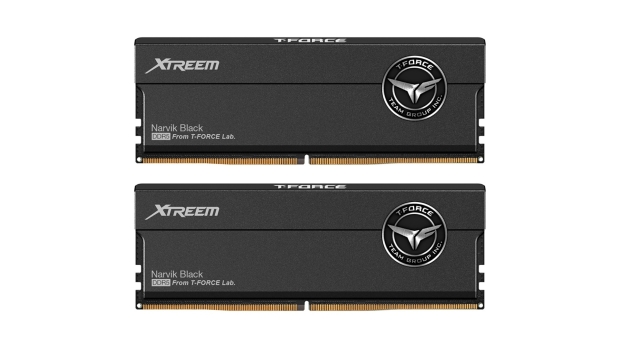 With impressive specs and design features, like the 2mm-thick aluminum alloy fin heatsinks to improve thermal performance and the use of special heat-conducting silicon in the construction, each stick also arrives decorated with a T-FORCE logo badge to signify its place as one of the most powerful overclocking DDR5 memory modules available.
T-FORCE XTREEM DDR5 memory also sports a two-piece metallic heat spreader with a matte black finish and texture that looks stylish and rugged. T-FORCE calls the design "elegant," and we agree. Here's a breakdown of the kits coming, with details on speed, capacity, timing, and more.
XTREEM DDR5 DESKTOP MEMORY
Capacity: 48GB(2x24GB)

Speed: 7600 MHz, 8000 MHz, and 8200MHz

Latency: CL36 and CL38

Bandwidth: 60800 MB/s, 64000 MB/s, and 65600 MB/s

Voltage: 1.4V
Capacity: 32GB(2x16GB)

Speed: 7600 MHz and 8000MHz

Latency: CL 36 and CL38

Bandwidth: 60800 MB/s and 64000 MB/s

Voltage: 1.45V and 1.4V
T-FORCE XTREEM DDR5 memory uses the company's proprietary IC grading testing validation technique for high-performance modules to achieve these high speeds. In addition, you've got on-die ECC, providing error correction and detection and a lifetime warranty to boot. If you're looking at high-speed and high-performance DDR5 memory, keep an eye out for the new T-FORCE XTREEM DDR5 memory, which will be available later this month via retail outlets like Amazon and Newegg.