There are big changes coming to your Xbox, with game captures set to be deleted after 90 days - and the clock starts right now.
In a blog published yesterday Jonathan Hildebrandt, Principal Group Product Manager, Xbox Experiences, confirmed that game captures stored on the Xbox network will automatically be deleted after 90 days. But don't worry, Microsoft already has a plan to make sure that you don't lose anything.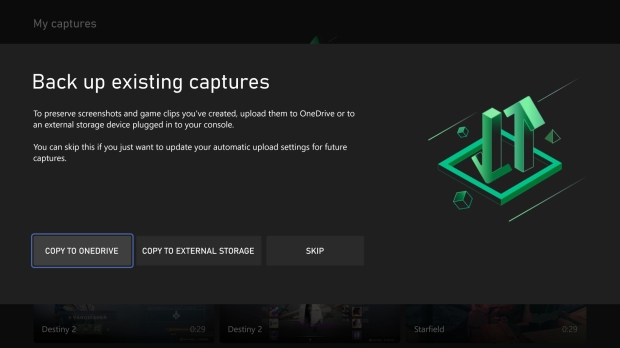 In the same blog post, it was confirmed that new changes will also allow the bulk upload of files to OneDrive or an external hard drive. Beyond that, the Xbox system can also be configured to automatically upload new captures to OneDrive to make sure that they're kept safe and sound. Making the change is pretty easy and there will be a "Tell me more" option in the Captures area of the Xbox software that will offer details on how to get started.
There are more changes in this September software update, too. Now it's easier to find in-game events and new content related to our favorite games. They can be found in a new Events channel right at the top of the Home screen.
On top of those changes, Microsoft is now also starting to show people popular apps like Apple Music, Apple TV< Disney+, and others when setting up a new console. The apps can then be ready to go once the setup is complete.
All of this should be starting to roll out now, so don't panic if you aren't seeing the new OneDrive upload options just yet. The update will arrive soon enough.