Recently, we reported that PCI-SIG was set to replace the 16-pin 12VHPWR power connector with a new 12V-2x6 power connector as part of the revised ATX 3.1 standard. The new 12V-2x6 power connector is backward compatible with the 12VHPWR connector, so it's more of a revision than a complete redesign and one that will help alleviate issues relating to overheating.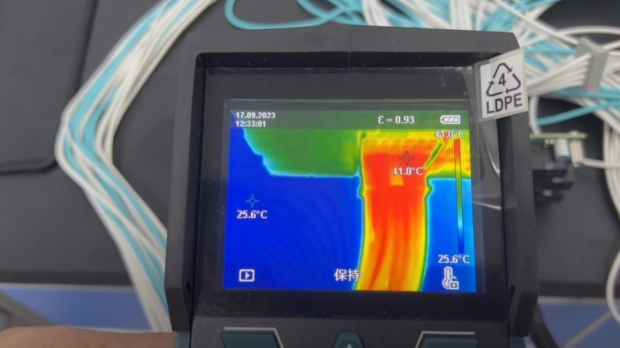 It's no secret that the move to the ATX 3.0 12VHPWR standard for the GeForce RTX 40 Series resulted in some serious issues for a small group of customers - cables melting and GPUs needing to be replaced. Ultimately, the problem was related to cables not being seated properly, leading to extreme heat.
The good news is that the new 12V-2x6 power connector is being used with new GeForce RTX 40 Series GPUs being sold and is supported on the latest power supplies. And now, with some fresh data from Linewell - a company that supplies cables to brands like ASUS - it looks like the new connector works extremely well, even when deliberately not seated properly.
The information comes via a new video from the YouTube channel Hardware Busters, where we see that the new 12V-2x6 power connector can withstand over 640W of continuous power and not exceed a temperature of 47 degrees - which is far from the melting point or at the sort of level that you'd consider damaging. This is great news for even those who overclock and push GeForce RTX 4090 GPUs to their 600W limit - and even better peace of mind for those simply running the stock 450W variants.
Even when intentionally not fully inserted and locked in, the new 12V-2x6 power connector can still withstand over 640W or 55 Amps of power, with thermal imaging showing similar low temps. Some proof that the revised cable design prevents the issues we saw crop up post-GeForce RTX 4090 launch.
The test was also customized to show the new power connector's thermal performance, as power usage would be restricted once it got to 600W+ without being securely seated. The test also looked at various (and excessive) bends, with all situations not impacting performance. Of course, no design is perfect, but based on what we see here, the new 12V-2x6 power connector will finally end the melting cable issue.