TEAMGROUP has announced a new range of high-speed DDR5 memory under the company's T-CREATE brand for creators, designed for workstations and servers. According to the press release, the T-CREATE MASTER DDR5 OC R-DIMM series is a great option for "large-scale projects, analyzing large data sets, and running multiple specialized applications concurrently."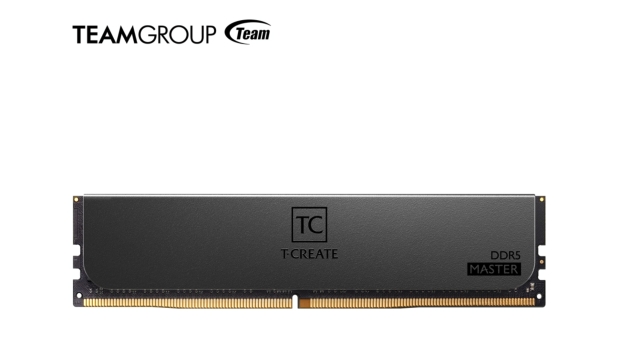 As the latest overclocking ECC Registered DIMM memory from TEAMGROUP, speed-wise, you're looking at some capable kits with 6000 MHz, 6400 MHz, and 6800 MHz frequencies.
And when paired with the right workstation motherboard, it can reach a massive 384GB of total memory. With on-die ECC, there's also the promise of stability to match the excellent performance. T-CREATE MASTER DDR5 OC R-DIMM memory is compatible with the latest Intel Xeon processors and W790 series motherboards. It is set to hit the market sometime in October - arriving with a lifetime warranty.
For the high-end DDR5 6800 kits, TEAMGROUP will offer 4x16GB and 8x16GB across Taiwan and North America, targeting the professional creator and other relevant fields.
Other high-end features of the new memory include an additional layer of ECC (error correction) with the MASTER memory that can correct errors outside the chip and even resolve data corruption.
Not that it's essential, but the new line-up also sports the stylish matte black and subtle look we've seen in other T-CREATE products - helping establish the brand and the latest DDR5 memory as a premium high-end option for creators.
Here's a look at the specs.
Module Type: DDR5 288 Pin ECC Registered DIMM
Frequency: 6800, 6400, 6000
Capacity: 16GBx4, 16GBx8
Latency: 6800 (CL34-44-44-84), 6400 (CL32-39-39-84), 6000 (CL32-39-39-84)
Data Transfer Bandwidth: 6800 (54,400 MB/s), 6400 (51,200 MB/s), 6000 (48,000 MB/s)
Voltage:1.4V
Compatibility: W790
Dimensions: 32(H) x 133(L) x 7(W)mm
Heat Sink: Aluminum heat spreader
Warranty: Lifetime warranty
For more information on the T-CREATE MASTER DDR5 OC R-DIMM memory, head to the official product page.