Microsoft expects Xbox Game Pass to deliver nearly $8 billion in revenue by 2030.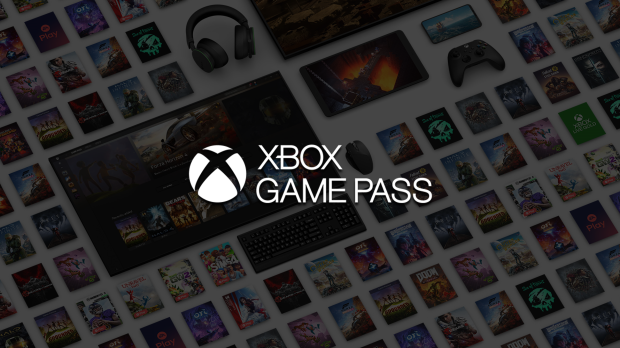 New leaks from Microsoft reveal ambitious plans for its $16 billion games division. The tech giant not only wants to make Xbox the top gaming console on the market, but it also wants to radically transform Xbox Game Pass into the leading and revenue-dominant gaming subscription available today.
Microsoft estimates that Xbox could by worth $36 billion by 2030, driven primarily by games sales, microtransactions, and purchases made on console, PC, and the cloud--in fact, Microsoft expects Xbox to make $16.9 billion from transactions by 2030, which is more than the total amount that Xbox makes today.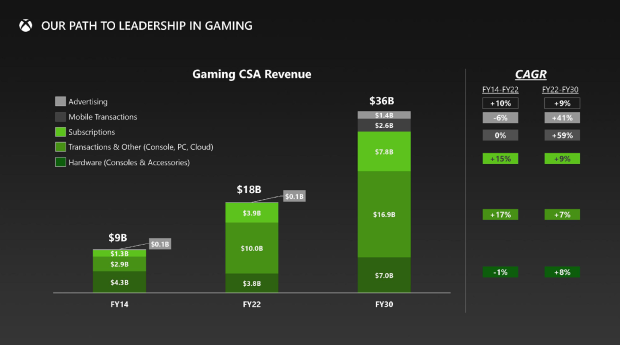 According to the leaked slides, Microsoft expects to make $7.8 billion from subscriptions by 2030.
To put that into perspective, Microsoft reports that it made $3.9 billion from subscriptions in FY22, including both Game Pass and Xbox LIVE (the former of which has lower margins, the latter of which has higher margins). Within six years' time, Microsoft expects to effectively double subscription service revenues.
Subscriptions will play a big part of this growth thanks to recurring revenue streams. Microsoft will use its acquisition of Activision Blizzard King to accelerate the 2030 strategy, principally through the tremendous value that games like Call of Duty, Overwatch, and Diablo can add to Game Pass. Another big part of achieving this $36 billion target is Microsoft's Universal Store concept, wherein Xbox gaming would effectively bridge console, PC, mobiles, and any other devices in between.
Another interesting note about the 2030 chart is Microsoft's boosted advertising revenue.
We know that Microsoft plans to add advertisements to mobile and PC games following the Activision-Blizzard acquisition. It's likely that these ads will be almost entirely for mobile and free-to-play PC games, however it's possible that eventually Microsoft could use a combination of King's ad platform and its own Xandr ad tech to create an advertisement delivery infrastructure that connects to all endpoints of the Microsoft Universal Store.
Microsoft made around $100 million from ads on Xbox in FY22. By 2030, that value should be around $1.4 billion. That's a 14x increase in six years' time and most if not all of this growth should be attributable to Activision Blizzard King's mighty ad empire.
Hardware is also expected to jump from $3.8 billion to $7 billion. That's a surprising jump, especially considering that Microsoft has said it did not include console segment growth in its Activision-Blizzard acquisition proposal.