Last week, we reported on multiple sources claiming that Nintendo was demonstrating Nintendo Switch 2 hardware to developers at Gamescom. Showcasing an upgraded version of The Legend of Zelda: Breath of the Wild and the visually stunning The Matrix Awakens Unreal Engine 5 tech demo for PlayStation 5, the internet is abuzz with speculation on what the Switch 2 will be capable of.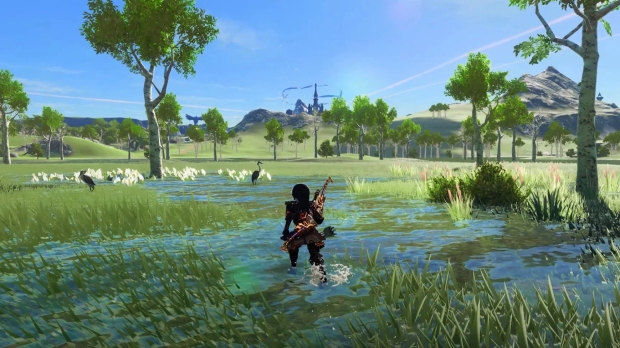 According to sources, the Nintendo Switch 2 demos also included ray-tracing and NVIDIA DLSS, pointing to a serious upgrade compared to the current Switch hardware - which first hit the scene in 2017. The existing Switch is powered by a custom Tegra X1 chip using NVIDIA's 20nm Maxwell architecture from 2014, so it's definitely starting to show its age.
And with that, we've got sources outlining what NVIDIA chip (heavily customized and optimized) will be found at the heart of the Nintendo Switch 2 - NVIDIA's T239 Ampere APU (via @Kepler_L2).
Like the GeForce RTX 30 Series, this new chip will use Samsung's 8nm process technology with the GA10B Ampere GPU set to feature 2,048 CUDA Cores - a massive increase over the 256 CUDA Cores found in the Switch's Tegra X1 chip. Not only is this an increase in CUDA Cores, but the Switch 2 will also benefit from three generations of architectural improvements, including the addition of AI-based Tensor Cores and dedicated RT Cores for hardware-accelerated ray-tracing.
This will be bolstered by a 12-core CPU, another big increase compared to the original Switch - which features a 4-core CPU. Of course, making use of this "off-the-shelf" NVIDIA APU will mean an overall power draw increase to 60W compared to the original Switch's 15W chip, so it's safe to assume that Nintendo is working with NVIDIA to optimize and potentially cut down the GA10B Ampere GPU to make it more power efficient as battery-life will be a big focus for the company.
The good news is that DLSS is all about power efficiency and, in its latest revision, can deliver exceptional results at 1080p, 1440p, and 4K. The upgraded version of The Legend of Zelda: Breath of the Wild shown at Gamescom was running at 4K 60fps, thanks to DLSS.
Whatever the end result will be, there's no doubt that Ampere architecture and DLSS will provide a substantial upgrade to the capabilities of the Switch 2 compared to the Switch - and we can't wait to see it in motion.