Having a dual screen or dual monitor setup can do wonders for your productivity because, odds are, you've got multiple browser tabs going when you're working or even just browsing or killing time on a PC. On top of that, a few different communication apps, YouTube, and maybe something like Spotify. The challenge comes when you go mobile and work in various locations with a laptop.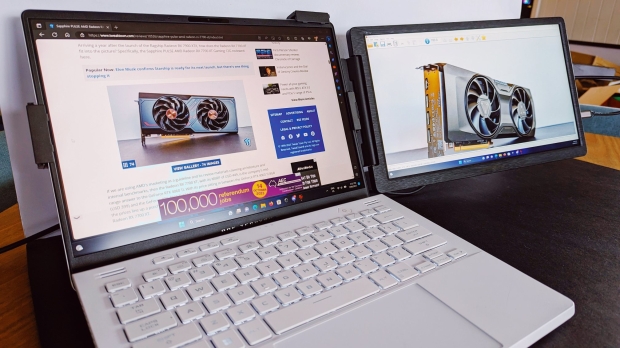 Thankfully, the dual monitor setup still works with a modern-day laptop - thanks to devices like the new CrowView 14-inch Portable Ultralight Dual Monitor. Currently available for purchase at an Early Bird price of USD 114.90 (via ELECROW), I've been making good use of one in recent weeks thanks to being offered a sample from the team at ELECROW.
Perfect timing, really, as I dreaded having to use a laptop for all work-related things due to being on the road and away from my desk, mainly because I've grown so accustomed to having multiple displays. The CrowView 14-inch Portable Ultralight Dual Monitor definitely lives up to its namesake; it's portable, lightweight (less than 800 grams), and can be set up in several different ways.
Regarding specs, it's built for the modern-day laptop, with its 14-inch 16:9 1080p display with a wide 178-degree viewing angle. On top of that, you've got a lightweight shell made from ABC and PC material, and with a retractable arm on the left and some soft pads, it can be connected to your laptop in a matter of seconds. Designed for laptop screen sizes ranging from 13 to 16.5 inches, the fact that it doesn't put much pressure on the display or existing screen is a big plus.
My laptop is the ASUS ROG Zephyrus G14, and the CrowView 14-inch Portable Ultralight Dual Monitor connected in a matter of seconds - and the soft rubber padding meant no strain on the chassis.
In addition to a mini-HDMI, you've also got USB-C video and power, so you've got video and power for the display via a single cable. The best part is just how flexible and portable it is, as you can also have the display sit next to your laptop thanks to the built-in kickstand or even give it a vertical orientation thanks to the 230 degrees of rotation.
Although not the intended purpose, I also tested the CrowView 14-inch Portable Ultralight Dual Monitor with an Xbox Series S - and even though the specs and refresh rate are designed for productivity first and foremost, it was pretty cool having the display sit on top of the mini next-gen Xbox console while playing Diablo 4.
The crowdfunding campaign for the CrowView 14-inch Portable Ultralight Dual Monitor is open, so be sure to head over and pick one up at the great introductory price if you're in the market (or would like) a second screen for your laptop.