A Chinese graphics card manufacturer has gone all-out with the fans on a new RTX 4090 model.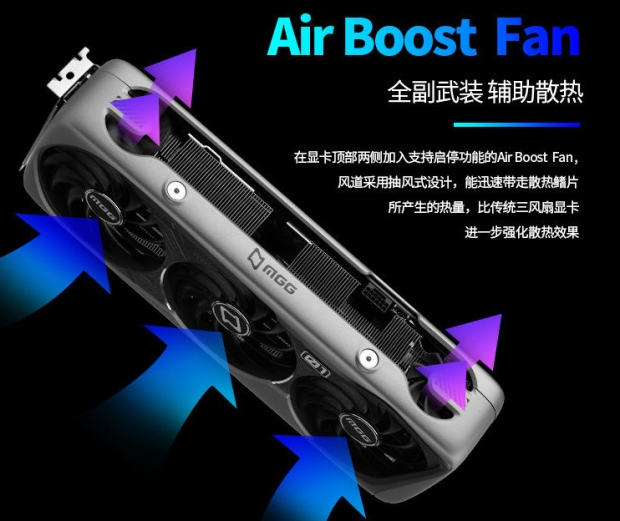 MaxSun has just revealed the RTX 4090 MegaGamer, as VideoCardz noticed, with the design calling for five - yes, five - fans.
That doesn't mean there's a row of five fans along the top of the card, as you'd no doubt guess.
The top of the RTX 4090 MegaGamer plays host to three fans, with the other two fans nestling in the side of the graphics cards, known as the 'air boost' fans.
While the top fans draw air onto the cooler, the pair of side fans do the opposite, pushing heat away out of the side of the graphics card.
Despite packing all this cooling, the RTX 4090 MegaGamer remains a triple slot board, so it's not as chunky as you might imagine (it's still beefy enough, of course, as is any RTX 4090).
There's something else cool about this card, in terms of a feature that's cool, rather than a cooling feature - namely a customizable LED screen that sits on the side of the board (if you want it, or it can be detached).
You can tweak the LEDs to display graphics or text, adding an extra bit of personalization to the card.
As for specs, the RTX 4090 MegaGamer is overclocked to run with a boost speed of 2580MHz off the bat.
While MaxSun will sell this graphics card to Chinese customers, it's possible that the product could eventually be offered via Aliexpress, if you want to pay to have it shipped.
As VideoCardz notes, though, there's a chance the RTX 4090 MegaGamer will be exclusive to China and never be offered to anywhere else. Mind you, it's still interesting to see the kinds of custom boards manufacturers are coming up with these days.
Incidentally, those waiting for a possible supercharged flagship for Lovelace from NVIDIA, namely an RTX 4090 Ti, should be aware of the recent news from the grapevine that this GPU is not happening.