With the next generation of Intel CPUs on the horizon, board makers are preparing for a new silicon to hit their hardware. This is where GIGABYTE's new Z790 X motherboards come in - with the company proudly stating that they will "fast track" you to Gen X thanks to simplified and improved overclocking capabilities, more expansive DIY options, better connectivity, and DDR5 auto XMP Booster profiles of DDR5-8266+.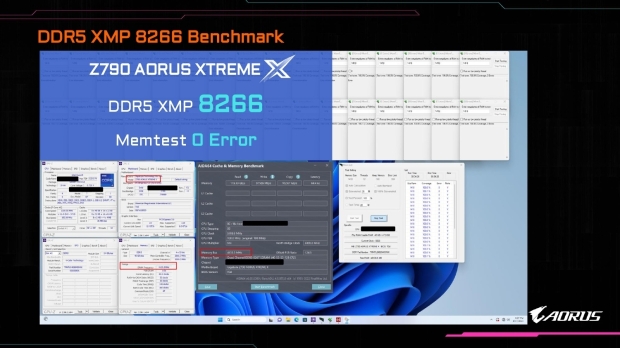 The line-up is varied, covering a range of new boards for the next generation of CPUs, including the new Z790 AORUS XTREME X, the MASTER X, PRO X, and ELITE X. Different models will offer varying features, but the entire Z790 X range from GIGABYTE AORUS is all about delivering the very best DD5 performance alongside featuring a robust and impressive VRM design.
For DDR5, you're looking at auto-boosting DDR5-5600 to DDR5-6000, and with GIGABYTE's implementation of auto-boost XMP profiles, you can push kits up to speeds of over DDR5-8266 on a dual-channel 4 DIMM board with a single click. Awesome. The Z790 X series will automatically set DDR5 modules to the highest profile.
Excellent stuff that more than lives up to the 'Speed Simplified' and 'Fast Track to GenX' taglines. Outside of DDR5 advances, the new Z790 X series features an '8-layer server-grade signal low-loss PCB' that improves signal stability and reliability - which factors into the DDR5 performance alongside other advanced technologies like shield and isolated memory routing.
The Z790 X series also introduces brand new back drilling technology - which looks like bumps on the back of the motherboard - this, too, factors into the advanced features, reliability, and speed.
And then there's cooling, which GIGABYTE refers to as a "full metal thermal design," with integrated heatsinks and a "real one-piece build" to offer a large surface area for the heatsink. GIGABYTE has also redesigned the I/O to add vents that can drop temperatures by up to 7 degrees.
And for those who can't get enough of the AORUS style, the Z790 AORUS EXTREME X features a new 5-inch display that offers up system info, including CPU voltage, fan speeds, memory clocks, and more.
Here's a look at the lineup.
Z790 AORUS XTREME X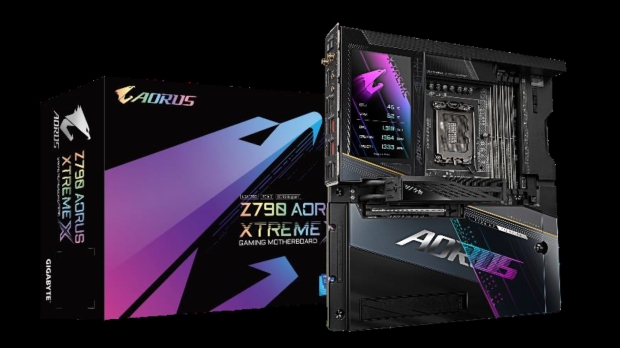 Supports Intel Core Next Gen, 13th, and 12th gen processors

Digital twin 24+1+2 phases VRM solution

Dual Channel DDR5 4*DIMMs with XMP 3.0 memory module support

PCIe UD Slot X PCIe 5.0 x16 slot with 10X strength for graphics card

EZ-Latch Click M.2 heatsinks with screwless design

EZ-Latch Plus PCIe 5.0 x16 slot & M.2 slots with quick-release design

UC BIOS User-Centred intuitive UX with Quick Access function

Ultra-Fast Storage 5*M.2 slots, including 1* PCIe 5.0 x4

Efficient Overall Thermal VRM Thermal Armor Fins-Array & M.2 Thermal Guard XTREME

Fast Networking 10GbE + 2.5GbE LAN & Wi-Fi 7 with Ultra-high gain antenna

Extended Connectivity Dual Thunderbolt 4TM, Dual Front USB-C 20Gb/s

DTS:X Ultra Audio ESS ES9280A DAC and ESS ES9080A with Front ESSential USB DAC Bundled
Z790 AORUS MASTER X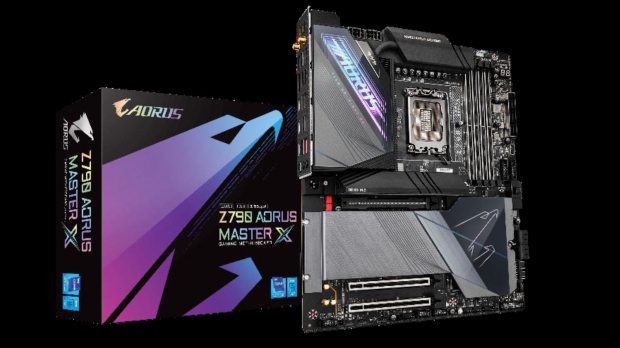 Supports Intel Core Next Gen, 13th, and 12th gen processors

Digital direct 20+1+2 phases VRM solution

Dual Channel DDR5 4*DIMMs with XMP 3.0 memory module support

PCIe UD Slot X PCIe 5.0 x16 slot with 10X strength for graphics card

EZ-Latch Click M.2 heatsinks with screwless design

EZ-Latch Plus PCIe 5.0 x16 slot & M.2 slots with quick-release design

UC BIOS User-Centred intuitive UX with Quick Access function

Ultra-Fast Storage 5*M.2 slots, including 1* PCIe 5.0 x4

Efficient Overall Thermal VRM Thermal Armor Fins-Array & M.2 Thermal Guard XL

Fast Networking 10GbE LAN & Wi-Fi 7 with Ultra-high gain antenna

Extended Connectivity DP, USB-C 10Gb/s, Front & Dual Rear USB-C 20Gb/s

DTS:X Ultra Audio ALC1220 & Rear ESS SABRE Hi-Fi 9118 DAC
Z790 AORUS PRO X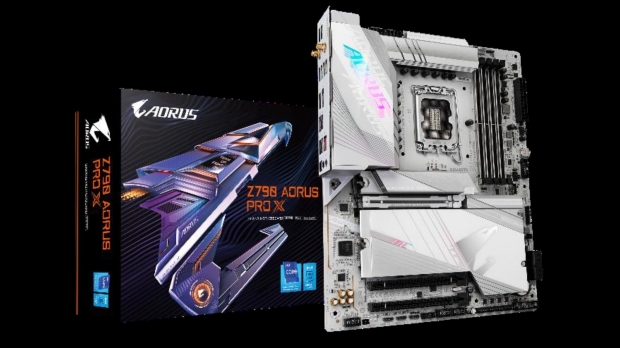 Supports Intel Core Next Gen, 13th, and 12th gen processors

Digital twin 18+1+2 phases VRM solution

Dual Channel DDR5 4*DIMMs with XMP 3.0 memory module support

PCIe UD Slot X PCIe 5.0 x16 slot with 10X strength for graphics card

EZ-Latch Click M.2 heatsinks with screwless design

EZ-Latch Plus M.2 slots with quick-release design

Sensor Panel Link Onboard video port for hassle-free in-chassis panel setup

UC BIOS User-Centred intuitive UX with Quick Access function

Ultra-Fast Storage 5*M.2 slots, including 1* PCIe 5.0 x4

Efficient Overall Thermal VRM Thermal Armor Advanced & M.2 Thermal Guard XL

Fast Networking 5GbE LAN & Wi-Fi 7 with Ultra-high gain antenna

Extended Connectivity HDMI, DP IN, Front & Rear USB-C® 20Gb/s

Precision Audio ALC1220 & Audiophile Grade Capacitors
Z790 AORUS ELITE X WIFI7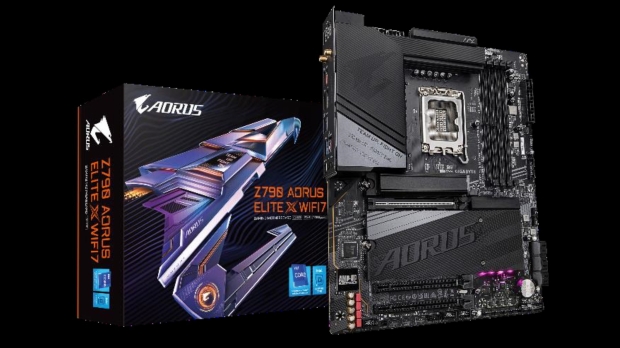 Supports Intel Core Next Gen, 13th, and 12th gen processors

Digital twin 16+1+2 phases VRM solution

Dual Channel DDR5 4*DIMMs with XMP 3.0 memory module support

PCIe UD Slot X PCIe 5.0 x16 slot with 10X strength for graphics card

EZ-Latch Click M.2 heatsinks with screwless design

EZ-Latch Plus M.2 slots with quick-release design

UC BIOS User-Centred intuitive UX with Quick Access function

Ultra-Fast Storage 4*PCIe 4.0 x4 M.2 slots

Efficient Overall Thermal VRM Thermal Armor Advanced & M.2 Thermal Guard L

Fast Networking 2.5GbE LAN & Wi-Fi 6E with Ultra-high gain antenna

Extended Connectivity DP, HDMI, Front USB-C 10Gb/s, Rear USB-C 20Gb/s

Precision Audio ALC1220 & Audiophile Grade Capacitors