At Gamescom 2023, Blizzard lifted the lid on the upcoming second season of Diablo IV called 'Season of Blood', which is set to begin on October 17. Per the naming, the next season will feature a story all about a new "fanged threat" emerging from the shadows - vampires.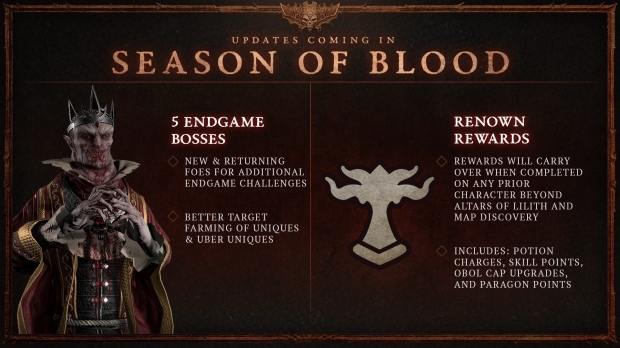 The brief story description hints at a "dark master" controlling an army of vampires unleashed on Sanctuary, which will unfold as part of a new questline, including obtaining new Vampiric Powers "to wield against their originators." Blizzard has released a trailer for the new season that introduces Erys, a vampire hunter voiced by actress and producer Gemma Chan.
In addition to bloodsuckers, five new endgame bosses will be arriving, with players finally able to target specific Unique and Uber Unique items as a drop.
Blizzard isn't quite ready to fully go through all of the new Vampiric Powers coming to the game or what Unique items both new and old players will be able to specifically farm (a very welcome addition), but Diablo IV's second season will also see the arrival of some long-awaited quality-of-life updates.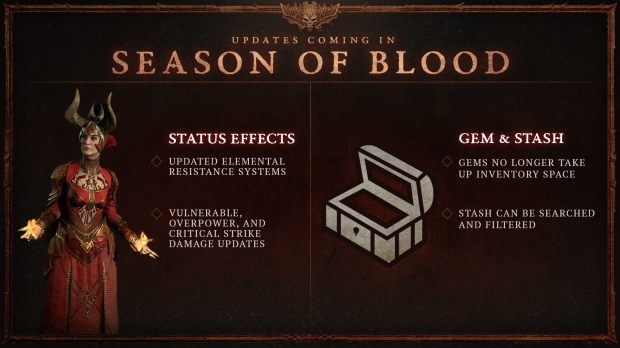 First, all Renown rewards will carry over to the new season - from either the Eternal Realm or Season of the Malignant, including the additional Potion Charges, Skill Points, Obol Cap upgrades, and Paragon Points. This means no longer having to complete the same side-quests and in-game activities over and over for each new character you roll.
Season of Blood will also introduce a "more efficient Inventory management for Gems," which we assume means a separate Gem stash or having Gems become a part of the consumable and crafting bags. This addition, alongside the ability to filter and search stashes, will make item management much less painful in Diablo IV.
Blizzard notes that Season of Blood will also update and change how things like Elemental Resistance, Vulnerable, Overpower, and Critical Strike Damage systems work - though we'll have to wait to find out exactly what this means.