AMD has apparently canceled its plans to release high-end models in its upcoming RDNA 4 range scheduled to launch sometime in 2024, which would mean no generational successor to the AMD Radeon RX 7900 XT and Radeon RX 7900 XTX. Many factors potentially led to the cancellation, from architectural complexity and issues to delays and the softer market for high-end enthusiast GPUs for PC gaming in 2023.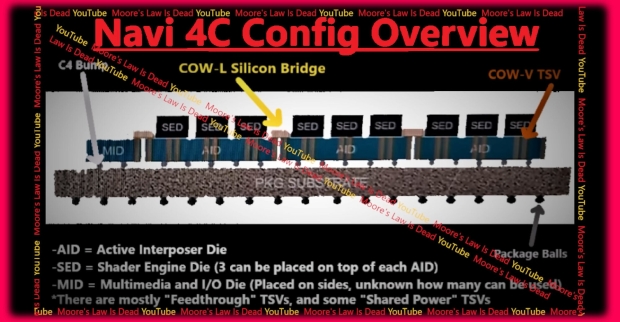 Today we've got some fresh info on what was being dubbed 'Navi 4C,' a high-end GPU in the RDNA 4 line-up that will most likely be shelved as AMD moves away from high-end GPUs for its next generation. This new 'Navi 4C' leak from the YouTube channel Moore's Law is Dead (MLID) showcases a genuinely fascinating, if incomplete, design of a GPU that goes all-in on the whole chiplet design.
The shift to chiplet was first seen with Navi 31 and the Radeon RX 7900 Series, but what we see with 'Navi 4C' takes the idea to a whole new level with AIDs (Active Interposer Dies), MID (Multimedia and I/O die) and SEDs (Shader Engine Dies) all working as one - plus, the same separate memory controllers as seen on Navi 31.
'Navi 4C' is a codename also mentioned previously by established insider Kepler_L2, though all of the revelations coming from this GPU diagram should be taken with a healthy grain of salt. It's a fascinating design that takes shader engines and turns them into smaller self-contained chiplets - which would help bring down foundry costs even further without the need to create massive dies.
Of course, having all these chiplets brings up the issue of interconnectivity, latency, and communication without impacting performance, which AMD would solve with specialized Bridge chips. This would allow AMD to utilize various process nodes, from 3nm to 4nm and up to 6nm, depending on the requirements and efficiency - while potentially keeping costs as low as possible.
Check out the full leak in the following video.