Showing up as expected, right after their announcement, on the Siggraph 2023 expo floor, AMD is publically showing their latest professional graphics cards including one which features an innovative single-slot design.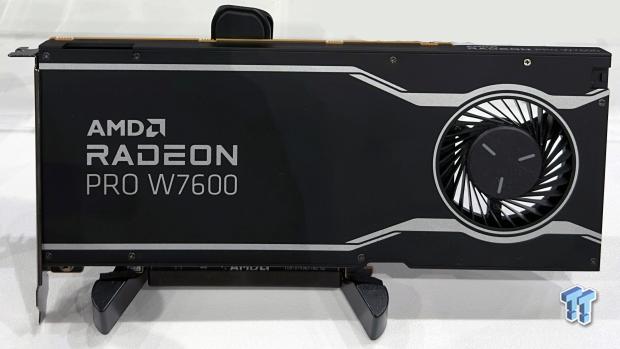 The AMD Radeon Pro 7600 graphics cards are designed with budget-conscious professionals in mind while providing advanced features and performance. The launch of the AMD Radeon Pro W7600 not only showcases AMD's dedication to the professional graphics space but also highlights the company's commitment to making cutting-edge technology accessible to a wider range of creative experts.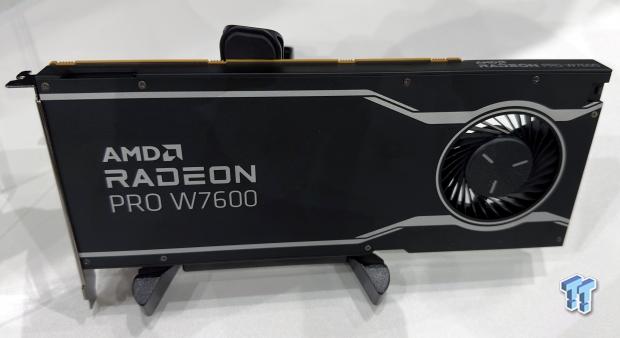 Powered with dedicated GDDR6 memory, AMD Infinity Cache, AV1 Encode/Decode, hardware-accelerated ray tracing, and advanced shading techniques, the cards provide enhanced visuals, accurate reflections, and an improved visual experience for entry-level professionals. The W7600 graphics cards leverage AI-powered enhancements to optimize tasks such as denoising, content creation, and basic image adjustments, streamlining the workflow for entry-level users.
The entry-level nature of these cards reflects AMD's understanding of professionals seeking cost-effective solutions without compromising on performance. We talked to a few attendees in the AMD booth at Siggraph, and they were extremely excited about the budget-conscious card. AMD continues to redefine possibilities for entry-level creatives, with each generation adding new innovative features. The launch at Siggraph 2023 has reinforced AMD's role as a pioneering force, shaping the evolution of technology and creative workflows for emerging talents across industries.
Despite their entry-level status and single-slot design, these graphics cards offer substantial compute power and rendering capabilities, catering to tasks of everyday content creation and basic simulations. We were quite excited to see that AMD is succeeding in bringing competition for professional-level graphics at an affordable price, and we can't wait to get our hands on one.
The AMD Radeon Pro W7600 is expected to be available in OEM workstations and from systems integrators later this year, while retail branded cards are already hitting shelves priced at $599.